With today being Ash Wednesday – that means Lent is here and fish frys will be on every corner of our great city. That said – there's someplace else you can go to get some great meals every day of the week – including meat-free on Fridays!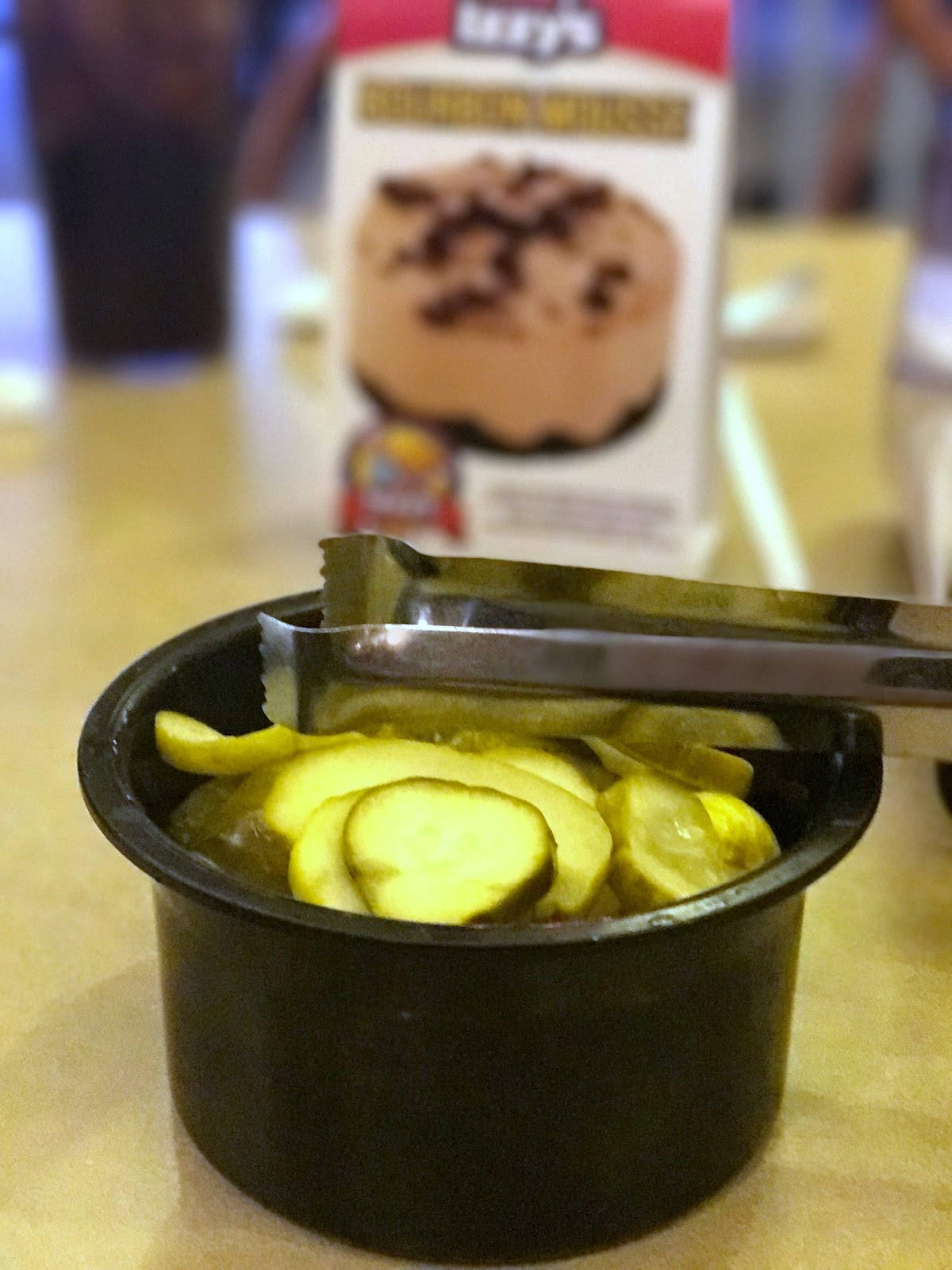 This pic gives it away – our friends at Izzy's always welcome you with that tub of zingy pickles ready for you to snack on as soon as you sit down. They sent us a gift card to check out their Cod sandwich as well as their other offerings and give you a chance to get some Izzy's for yourself!
Larry wasn't ready for Lent so he got a traditional Reuben – sans the sauce – and loved it as always. They were also very accommodating since he's allergic to eggs and can't eat their potato pancakes and offered up pasta salad, potato salad, pretzels or chips.
We tried this before Lent – so I just went for the traditional Battered Cod sandwich served on soft fragrant rye bread with a potato pancake. I was so hungry and ready to dig in!!!
During Lent – they change it up a bit and feature "The Codfather" which is one of their delicious tavern cut cod filets, battered with Izzy's special blend of spices and seasonings but it will be served on a kaiser roll with lettuce and tartar sauce. It comes with cole slaw or your choice of a side for only $6.99.
I loved their battered cod – the seasonings in the batter are fantastic. The outside is super crispy and the inside is light and flaky – just how delicious cod should be!
In addition to the Codfather –

Izzy

's menu is full of delicious Lenten friendly dining options, such as:
Tuna Melt $7.99: All-white albacore homemade tuna salad served open faced on whole wheat bread with melted imported Swiss cheese. Served with pasta salad
Veggie Reuben $7.99: Olive topilóv with diced fresh tomatoes piled high with sauerkraut and melted imported Swiss cheese on a toasted telera roll.
Boneless Cod $8.89: Cod battered with

Izzy

's special blend of seasonings on rye bread with tartar sauce.
Cod Reuben $9.29: Battered cod, homemade spicy tartar sauce and sweet-n-sour coleslaw topped with melted American cheese on rye toast.
Tuna Salad Sandwich (All White) $7.49: All-white albacore homemade tuna salad mixed with sweet relish, topped with lettuce and tomato on a toasted telera roll.
Egg Salad Sandwich $6.49: Homemade with spicy mustard, mayo and a pinch of special seasonings, topped with lettuce and tomato on rye toast.
Tuna Wrap $7.99: All-white albacore tuna salad with lettuce, diced tomatoes and melted imported Swiss cheese.
So let me know which Lenten special you want to try and we'll give one of you a $20 gift card so you can take you and yours to Izzy's yourself!