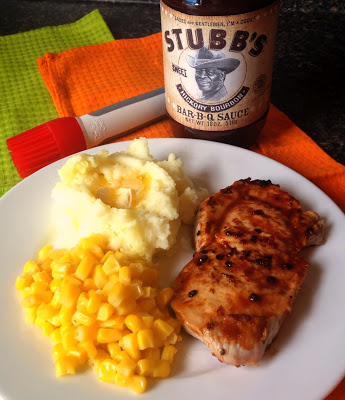 Just in time for the Fourth of July – I have a review & giveaway for you to get the grill going!


Stubb's BBQ products are all-natural, certified gluten-free and contain no high fructose corn syrup. They have sauces, marinades and rubs! Stubb's sent me a variety pack of products to try and let you know about!



I chose Stubb's pork marinade, hickory bourbon bar-b-q sauce, moppin sauce and a steak spice run. There's gonna be a lotta meat in my future – can you tell?!
I started with the Stubb's Pork Marinade which is a blend of lemongrass, lime, ginger and soy. We eat a lot of pork so I thought it would be fun to try.
We bought boneless ribs and went to town! I let them marinate all day while I was at work. And that is so simple – as I'm getting lunches ready in the morning – I just throw the meat in a bowl, dump the sauce over the top – cover – fridge – DONE. Stubb's pork marinade wasn't heavy at all and the meat was very tender. I think I impressed myself with my grilling skills!
The best part of having these sauces/rubs on hand is that when you come home and need a FAST dinner – you've got it! When I do my shopping on Sunday, I buy a few fresh proteins (fish, steak, pork) and then just have them in the fridge for the week. Combine that with the great Stubb's sauce – and dinner can be on the table in 10 minutes!
This week I bought thin pork chops on clearance – and of course – one night this week – I got home and was BEAT! But the husband was hungry and so was I – but it was a late work night and I didn't feel like slaving over the stove.
I grabbed the chops and heated up the grill skillet – I decided to try Stubb's Steak Rub on them as well – even though it's a steak rub – just to see what kind of flavors are in there. It's a peppery blend of sea salt, garlic and ancho chile.
After cooking the chops on one side – I flipped them, slathered the Stubb's Hickory Bourbon Bar-B-Q sauce on them and finished cooking them – then flipped and coated the other side. I did dip my finger in and try the sauce on it's own – it's a thick, hearty sauce with a definite combination of hickory smoke and sweet bourbon – mmm – mmm good!
Combine the pork chops with frozen vegetables and some quick mashed potatoes and dinner went from fridge to plate in 10 minutes! I'm a sucker for mashed potatoes and corn – I can't have one without the other! Thank goodness I had that Stubb's sauce in the fridge – it makes a great quick dinner option!
Here's a video that Stubb's provided me – it's a Guide to the Condiment Aisle from Mary Kate Smither. There are quite a few nutritional pitfalls that you'll find (sugar sugar sugar) and Stubb's prides themselves on the fact that they're gluten free and are all natural! It's a quick slide show and it might even have some hidden facts you didn't know about!
Thanks so much to Stubb's for the great products – I still have a couple left to try – but there's still time for you to grab some before your Fourth of July BBQ! I've seen them at Kroger and Meijer – so you should be able to find them in your local store too.
And after the holiday – somebody is going to win some of their own Stubb's products! Enter below and I'll draw a winner next week!