This post and my appearance on Fox 19 were sponsored by Sara Lee Bread. All opinions are my own.
It's National Grilled Cheese Month and today is National Grilled Cheese Day! I'm excited to appear on Fox 19 this morning to share a couple of grilled cheese ideas with my friends at Fox. You see there are two kinds of grilled cheesers: Traditionalists and Adventurous!
For the traditionalists I'll be making a nice normal grilled cheese with just butter and American cheese. (The most popular cheeses for grilled cheese are American and Cheddar.)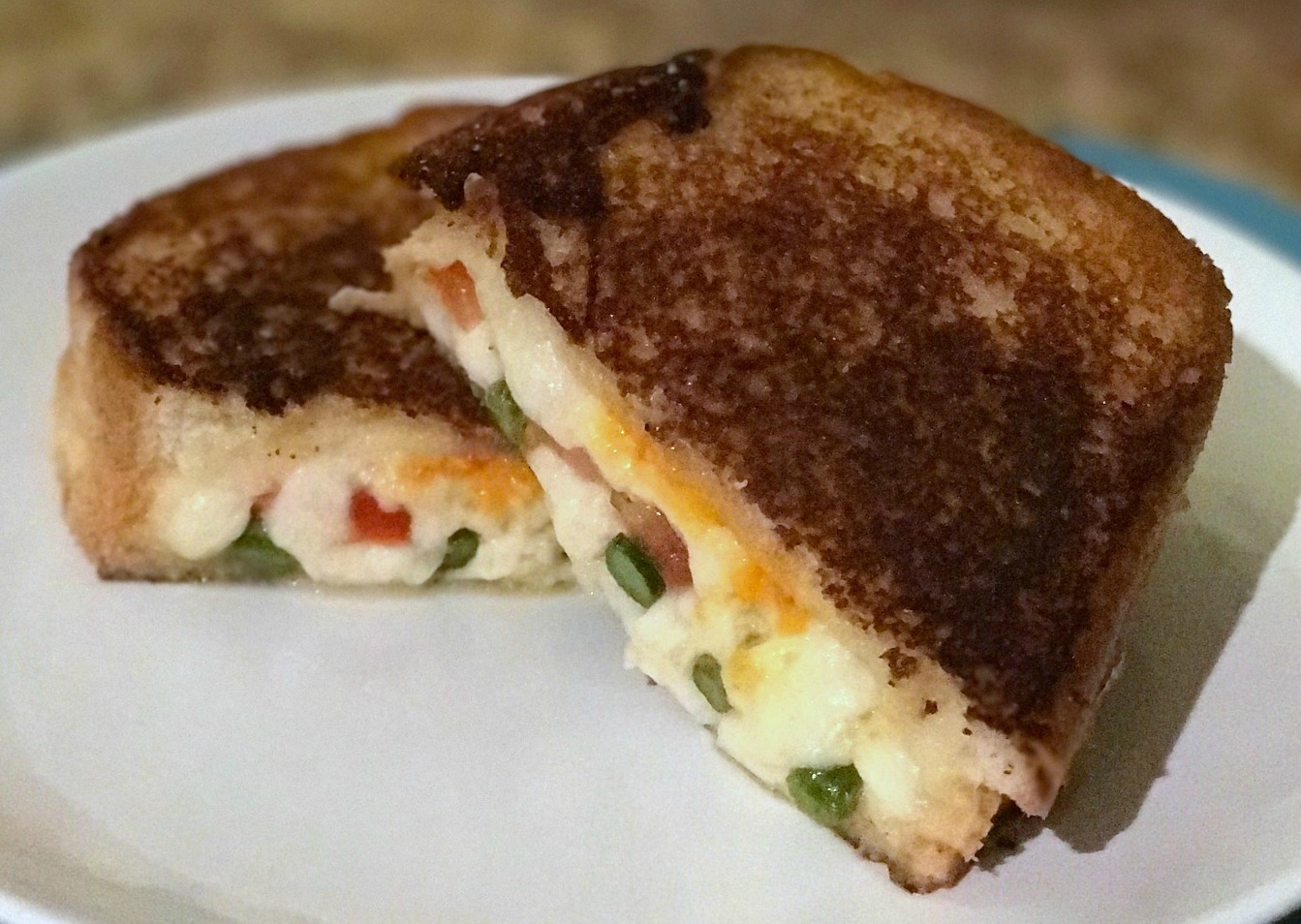 But for the adventurous folks – I've got a grilled cheese that I'm betting you've never had before! Fresh mozzarella, roasted asparagus, thinly sliced tomato and a splash of Balsamic Vinegar & Sea Salt. It's like a caprese salad but swapping asparagus for the spinach!
For the asparagus – I actually made it for dinner last night – super simple – just throw it on a sheet pan and drizzle it with olive oil, sea salt and cracked pepper. Then roast at 400 for 15 minutes.
Then you make the grilled cheese – I love using cast iron pans – they don't stick because they're already "cured". So I do butter side down – no extra butter in the pan – and DEFINITELY no oil!!! Then top with shredded fresh mozzarella.
TIP: Always use shredded cheese – it melts quicker and then your bread won't get overdone!
Then top with asparagus and thinly sliced tomatoes. Also – splash a little Balsamic Vinegar and sea salt at this point. You need a little salty and a little acidity to go with all the cheese.
Top with more cheese! (Duh!)
Top with your other slice of buttered bread and you're good to go. Here's a big key too – DON'T SMUSH IT! The bread is a sturdy bread and it's meant to handle all those delicious toppings! Press it slightly just to seal the melty cheese and you're good!
Then flip it and you're ready to dive into your Adventurous Grilled Cheese!!! (Did you know – blondes prefer adventurous grilled cheese to traditional 82% of the time?!)
Adventurous Grilled Cheese!
Ingredients
– Sara Lee Artesano Bread
– 4 oz Fresh Mozzarella Cheese, shredded
– Softened butter
– Leftover Roasted Asparagus
– Roma tomato, thinly sliced
– Balsamic Vinegar
– Sea Salt
Instructions
– Preheat cast iron skillet on medium
– Butter one side of each slice of Sara Lee Artesano bread
– Place butter side down in heated skillet (no additional butter needed)
– Top with 1/2 shredded mozzarella
– Lay roasted asparagus and thin tomato slices on top of cheese
– Sprinkle with balsamic vinegar and sea salt
– Add more cheese
– Add other slice of bread
– Heat additional 2-3 minutes until golden brown
– Flip and press LIGHTLY
– Heat additional 2-3 minutes
– Serve!