This post is sponsored by HeluvaGood! All opinions are my own.
HeluvaGood! Dips
are my favorite – they have been for years. This year I'm jazzing up Memorial Day with them in two ways – deviled eggs and as a burger topping!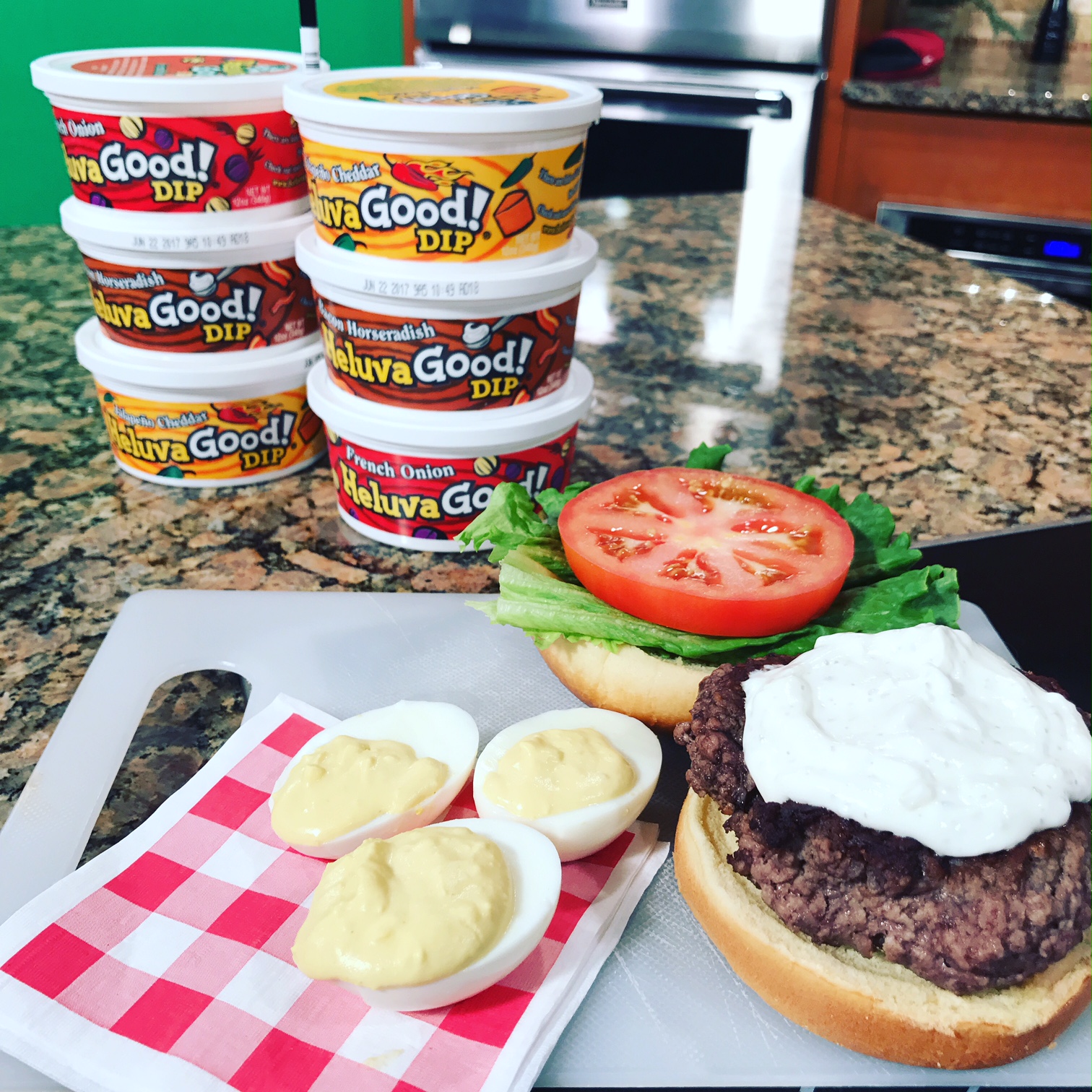 When it comes to burgers – I usually mix in dry onion soup mix into my hamburger but this time I tried something different. I just cooked up hamburgers and topped them with French Onion Dip. It was delicious!!!! Definitely worth a try – you've already got dip for the chips – so skip the ketchup & mustard and try some dip!
Now – I love deviled eggs but with the allergic husband I rarely make them. But with Memorial Day upon us – it's the time of year when it's sort of mandatory to make them – and I can take them to the picnic with friends so it's not just me eating them!
The folks at Heluva Good! Dips sent me a box of dips to try and I thought this recipe sounded good. But I like to change things up – of course – and I like some boom pow in my eggs so I went for the Bacon Horseradish Dip instead of the Ranch.
It's a simple recipe – egg yolks, dip, dijon mustard, lemon juice, hot sauce and a little salt – that's it!
Now I'll admit – my filling is a little runny! Argh – but I'm making these again in the morning on Fox19 so I'll get the proportions better in the morning. I had used medium eggs instead of large – so I think that is my problem. Just a little less lemon juice and dip.
The nice thing is that even runny – they taste great! So Saturday morning on Fox19 – wish me luck that I have a thicker filling!!!
BACON HORSERADISH DEVILED EGGS
Place the eggs in a large saucepan and cover with water by 1-inch. Bring to a boil. As soon as the water comes to a boil, set a timer for 10 minutes, and boil the eggs for 10 minutes. Remove from the heat and place in ice water. Peel the eggs and cut in 1/2 lengthwise. Remove the yolks from the whites and put in a medium bowl. With the back of a fork, mash the yolks. Add bacon horseradish dip, mustard, lemon juice, salt and hot sauce, and mix well. Spoon equal amounts of the mixture into the egg white halves.