Sometimes I get food cravings – no – I'm not pregnant – I just want certain foods. Last week – it was salmon – I've been dying for salmon!
I got a bit over a pound at Meijer and was a bit shocked that the guy at the seafood counter had NEVER HAD SALMON! He asked me if it was good (no – I'm just spending $10 on something crappy) and I said YES YES YES – go home tonight and make some!
I decided to take my own advice and made mine. I was looking for a recipe that I could bake and that was EASY.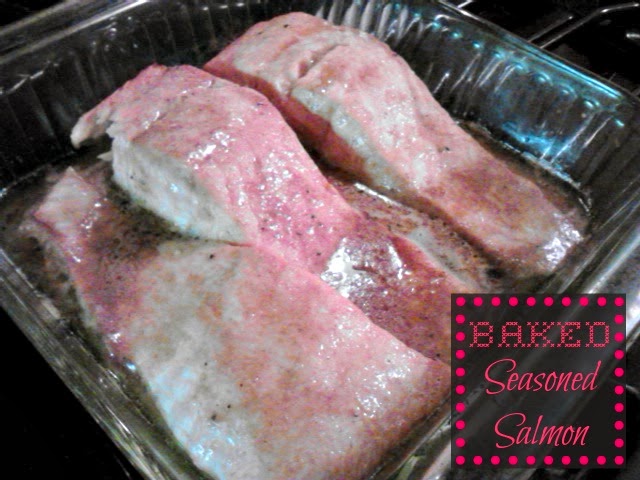 And after some googling – I found one of Food.com. This was great because I had all the ingredients and didn't have to do much! Woohoo!
I did use balsamic vinegar instead of cider vinegar because that's what was in the cupboard and I think I liked it better!!!!
I LOVED this recipe – it was tart (from the vinegar), lemony (from the lemon – duh) and buttery (from – you guessed it – the butter!).
This recipe is definitely going to be saved and made again and again in our house!





Baked Seasoned Salmon
Ingredients
1 tablespoon cider vinegar
1 tablespoon Worcestershire sauce
1 teaspoon prepared mustard
1/8 teaspoon black pepper
1/2 cup unsalted butter, melted
1/4 teaspoon paprika (optional)
1/2 teaspoon dried parsley (optional)

Directions
Preheat oven to 450 degrees F.
Arrange filets in a shallow baking dish.
Mix together the remaining ingredients, & pour half of this mixture over the fish.
Bake 20 minutes, basting with the remaining sauce.
When done, sprinkle with paprika & chopped parsley, if desired.