Pinterest has been such a wealth of information for me – I find I don't love cookbooks that much because I don't like digging through a big book for the 10 recipes I might actually want to make. Pinterest makes it so easy – I see it – I pin it – and then when I'm making my grocery list – I know right where to go! I even have a board called "
Recipes I Want to Try
" – you should check it out!
I found this Skinny Creamy Italian Chicken before I joined Weight Watchers – but now I think it'll become a frequent recipe in the Johnson house! I really like that blogger – I mean – she's from Iowa – what's not to like?!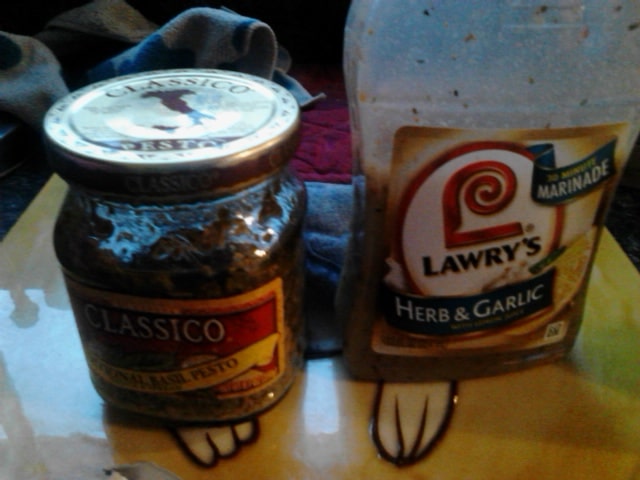 This recipe is pretty simple and when I saw "creamy" and "skinny" in the same title – I was sold – there's a secret ingredient for the creamy…you'll never guess it.
It starts with some purchased herb & garlic marinade and your favorite pesto…you pop it in a ziploc and marinate the chicken in it for 30 min – 8 hours.
Marinating…
I used chicken tenders because it's easier to portion out and cooks more quickly – I cooked these up in the skillet with non-stick spray. These tenders cook so quick. While the chicken is cooking – start your pasta water…
After the chicken was done – I took it out and shredded it on a plate to use once the sauce was ready…
Next up – saute onions, salt & pepper for a few minutes. Add the garlic for a couple of minutes…then add chicken broth. Finally you finish with tomato sauce and the secret CREAMY ingredient – fat free evaporated milk! Stir and add in your pasta – you're done!
This was utterly delicious! The chicken was so juicy and full of flavor – I loved it! The sauce had a touch of creaminess that I love along with the tomato sauce that is pretty standard.
I calculated up the Weight Watchers Points Plus and it came out to 12 pts per serving – which isn't too bad for a dinner. Not as "skinny" as I'd like – but I'm sure if I tweaked it – I could make it even less! Next time I would make it with quinoa pasta, lower calorie pesto, dump the olive oil and maybe add some veges to make it a little better. But all in all – a good dinner with a decent point value.
Skinny Creamy Italian Chicken


Ingredients:
For the chicken marinade:
4 small chicken breasts
1/2 bottle Lowry's Garlic Herb Marinade
2 Tablespoons prepared pesto
For the skillet:
8oz penne pasta
2 teaspoons extra virgin olive oil
1/4 small onion, minced
salt & pepper
2 garlic cloves, minced
1/2 cup chicken broth
8oz tomato sauce
1 cup evaporated skim milk
1 teaspoon flour
4 teaspoons prepared pesto
Directions:
Combine marinade and pesto in a large Ziplock bag then add chicken breasts and squish to coat. Marinade in the refrigerator for at least 30 minutes, or up to 8 hours.
Saute marinated chicken in a large skillet sprayed well with non-stick spray over medium heat for 5-6 minutes a side, or until no longer pink in the center. Remove to a plate then cover loosely with foil to stay warm and set aside. Carefully wipe out skillet with a spatula or wet paper towel. Meanwhile, bring a large pot of water to a boil then season with salt and add penne. Cook until al dente then drain and set aside.
Still over medium heat, add oil to the skillet then add onions and season with salt and pepper. Saute for 3-4 minutes, or until tender, then add garlic and saute, stirring constantly, for 30 more seconds. Carefully add chicken broth then let simmer until reduced by half, about 2 minutes. Add tomato sauce and evaporated milk then whisk in flour and pesto. Simmer until thick and bubbly, about 2-3 minutes. Add cooked and drained pasta then toss to combine. Portion out to plates then top with cooked chicken.