My friends at
Local 12
invited me back for St. Patrick's Day – I decided to whip up some Boozy treats for the holiday! Cuz that's what the holiday's about – right?
So first up – Leprechaun Balls! How is that not fun?!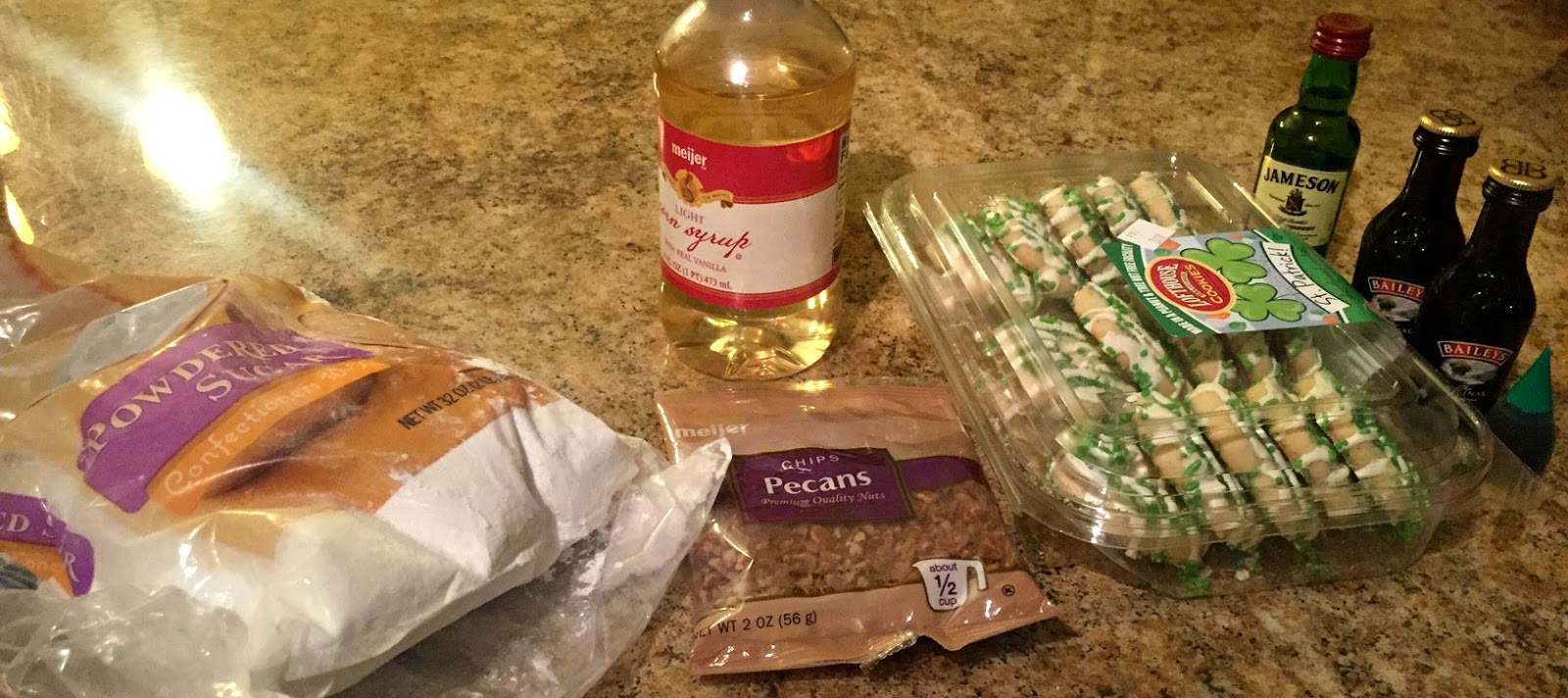 The ingredients are pretty simple: powdered sugar, corn syrup, pecans, shortbread cookies, Jameson Whiskey and Bailey's Irish Cream. I went for store bought cookies because after a full day of work, an hour of Zumba, two nut bar dogs greeting me, doing dishes and making dinner – I ain't makin' no damn cookies!
It's super simple – you just crush the cookies! It gets some aggression out – crush away. I then added green food coloring until it got super green.
I have a small food processor – so I popped the cookies in there quick just to even out the texture – and spread the food coloring a little more – then back to the bowl. The food processor REALLY helped even out the color – just fyi.
Then you add in the corn syrup, pecans, powdered sugar, whiskey & Bailey's. Stir away…
You'll come up with this super slimy and messy green "dough" – it's super gloppy. This was by far one of the messiest recipes I've made – but hey – when you play with balls, you're gonna get messy. #thatswhatshesaid.
You can't really form balls – I just sort of grabbed a glob and dropped it in the powdered sugar. Then as you toss it around in the powdered sugar – it becomes easier to handle.
Then pop them in the fridge for about 30 minutes until they firm up and you have your Leprechaun Balls!
Just a reminder – the booze is in them so they are not kid-friendly. 🙂
Boozy Leprechaun Balls
(adapted from TheRowdyBaker.com)
Ingredients
3 cups crushed green shortbread cookies (store-bought)

1/2 cup chopped pecans
1 cup powdered sugar

2 tablespoons corn syrup

¼ cup Baileys
2 tablespoons Jamesons Whiskey
powdered sugar
Instructions
Combine the crushed cookies, nuts, and powdered sugar in a medium bowl.
Add the remaining ingredients and stir well.
Roll scant tablespoons of dough into balls and roll them in a dish of powdered sugar and colored sugar.
Refrigerate until firm. These can be served chilled, which will give them the texture of fudge, or at room temperature, which will make them a little softer.
I'm sure you know this, but just for the record: DO NOT SERVE TO MINORS.
Next up – CHEESE! I love cheese – I just joined Weight Watchers and am already missing cheese. I can have it – just in moderation. This recipe called for Sharp Cheddar – so I decided to go with really good cheese (not the bagged pre-shredded stuff). In the cheese case by the deli, I chose 3 packages of sharp cheddar – one from Ireland (Kelly) and two others – I wanted a mix of flavors to give the dip more depth.
Then you add in a block of cream cheese – softened.
Then add in a little mustard & cream – and mix that up good. I used a hand mixer (you could also use a food processor but I don't have one). The mixer was fine and once you took it out of the cheese and kept it running – the cheesey goodness flew right off the beaters. I only flung cheese once. 🙂
After that's all mixed together, add in 1/4 cup of Guinness Draught. I had to buy a bottle of it – it's not my favorite beer at all – but it's really good with the cheeses!
Once it's all together – refrigerate overnight and you're good. You can add garlic, salt & pepper – but I left it the way it was and served them with the new Kashi Garlic & Pesto Peta Crisps. They had a good amount of seasoning so you could keep the cheese simpler. Tasty stuff!!!!
Again – not kid-friendly…just fyi.
Boozy Cheddar Dip
(adapted from TheCurvyCarrot.com)
8 ounces cream cheese, softened
2 and 1/2 cups SHARP cheddar cheese, grated (not the cheap stuff – go for the stuff that's not shredded and unique)
1 teaspoon Dijon mustard
2 tablespoons heavy cream
1/4 cup Guinness Draught
1. In a bowl, combine the cream cheese, cheddar, mustard, and half-and-half. Blend together with your mixer.
2. While mixing, slowly pour the Guinness into the mix and blend until combined.
3. Transfer to a bowl, cover, and chill at least for one hour prior to serving.
I hope you enjoy these recipes and have a great St. Patrick's Day!!!