Recently we decided to introduce a couple of coworkers to
Findlay Market!
I love when this happens! It's just nice to be able to see the looks on people's faces when you show them that:
A) it's not scary
B) it's really cool!
Both agreed after this visit that they would definitely be returning very soon! Yeah for Findlay Market!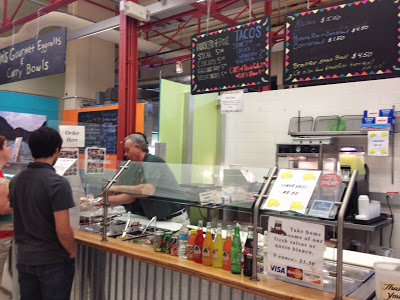 After walking them through the market – and exploring the different food options – I settled on Mama Lo Hizo. I'd heard the about "the Mexican place" and figured it was worth a try.
Right off the bat I saw a sign for cornbread with queso ($1.50 I think) – and as much of a cheeseaholic as I am – there was no way I wasn't trying this! I have to say – it was disappointing. The cornbread muffin was a little dry and usually benefits from butter. The queso was very very thick and to me it was too much – like peanut butter on the roof of your mouth. Neither tasted bad – it just wasn't a combo that I liked.
I also tried a ground beef taco ($2) and it was fine. It was packed full of ingredients – so they don't skimp there by any means. There wasn't really anything memorable about it after that. I liked it more than the cornbread and finished it.
They had fish tacos on special ($3 I think) this day and I saw the fish wasn't breaded (like so many fish tacos serve) so I jumped on it. There was a vinegar slaw served with it as well. This was by far my favorite of the items! The fish (likely tilapia) was flaky and seasoned well and the slaw wasn't overwhelming in any way. It was great because it was lacking all of "my" normal toppings (cheese, sour cream) but it was far tastier than the other taco!
Why Should You Go?
Beyond the tacos they also have burritos and bowls (ala Chipotle) – Manfred & Amy both enjoyed their bowls and said they'd definitely be back to Findlay. We told them weekends were the time to check it out because there are so many more outside vendors! I would definitely try more items out from Mama – but definitely get the fish taco if it's available.