It's been over a year that I've been wanting to try this next restaurant – I saw the "coming soon" sign when I visited
Mardi Gras on Madison
and knew I needed to go. But time passes and I get forgetful – but finally – I headed to…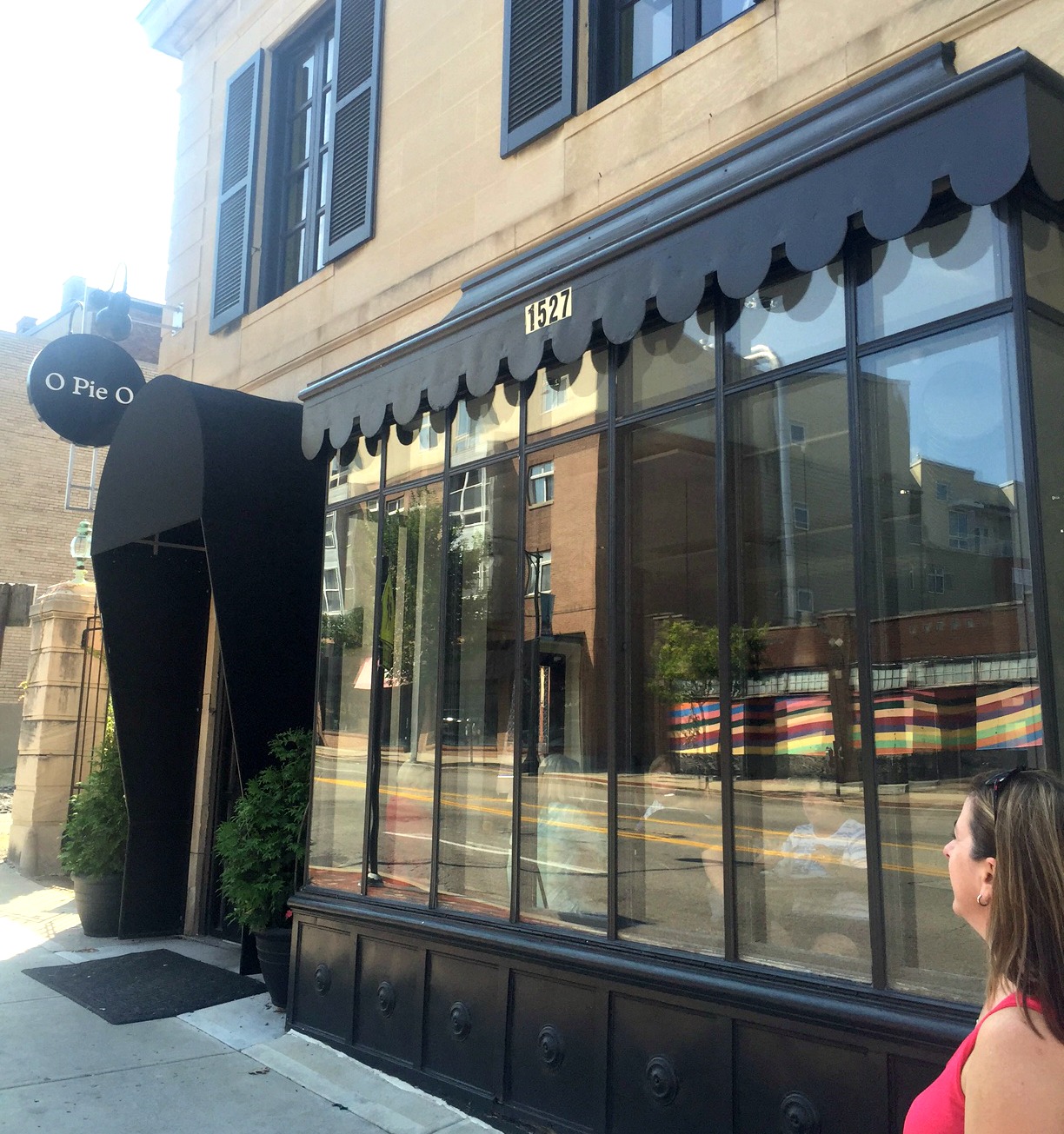 O Pie O
! They serve sweet and savory pies in addition to wine, beer and sides.
The menu is quite extensive on both sides – there are lots of kinds of pies from pot pies to quiches to traditional sweet pies and pretty much everything in between. It's a good variety and I had a hard time choosing.
There are also a list of daily specials – one of which was the Honey Vinegar sweet pie that I had heard so much about.
My friend Susie went for a special and got the ham, roasted pepper and cheddar pocket with gazpacho as well as a strawberry frangiepane pocket. The pocket pie and soup combo runs for $10 and the sweet pocket pie was $5. They served the pie + soup with a side of pickled vegetables. Susie said the gazpacho was very hearty and the pocket pie was tasty – with a great crust.
I went for the Greek Quiche which had gruyere, goat cheese, sun-dried tomatoes,
spinach, pine nuts in a tender butter crust. This was served with one side and pickled veggies for $10.
This was good but not great. I would have liked it warmer and there was a lot going on but it wasn't outstanding. Frankly my mom's quiche is better – of course – she makes a mean quiche.
For the side I ordered the Carolina Slaw – which had a sweet vinegar base w/ cabbage, red
peppers, carrots, celery seed, onion and sells for $5 when not featured with a pie.
I had to try the Honey Vinegar Pie ($5) mainly because I'd heard so much about it. It was served flaked with sea salt. Again – underwhelming. It was similar to a custard but really didn't have a lot of flavor to it. I was instantly jealous when I saw the Dark Chocolate pie the table next to us got.
Why Should You Go? Well I think it's worth a try and most people like it. I probably won't be back. My lunch and pie was $15 – before drink and tip – that's pretty steep for pie. I remember back in the day of Tom's Pot Pies how amazing that was and I was hoping for that.