A few weeks ago – the newest fine dining establishment in downtown Cincinnati had a blogger tasting. I was invited and so excited!
Then I got the flu.
SERIOUSLY?!
Yeah – so I couldn't go. 🙁 I was sooooo bummed.
But they were nice enough to invite me back! So Larry and I planned a date night and headed downtown.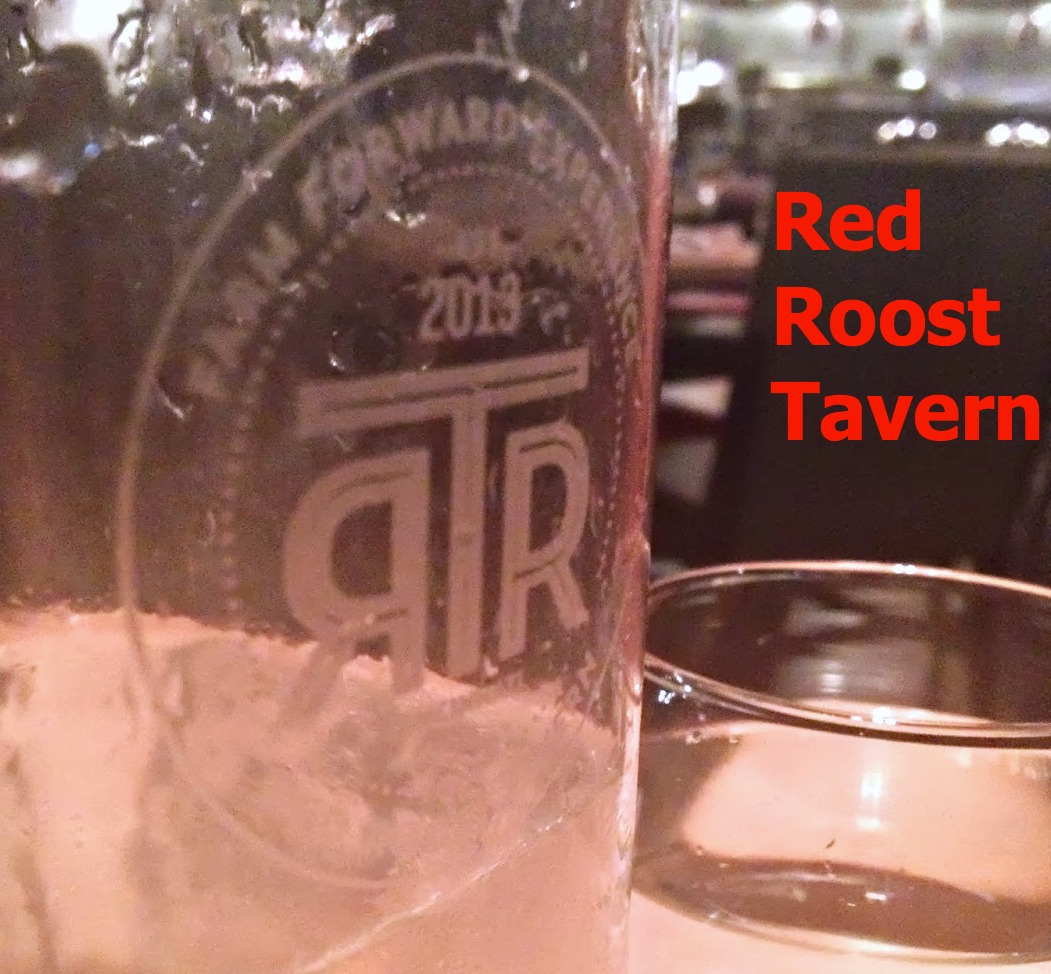 The
Hyatt Regency Cincinnati
has completely remodeled and it is AMAZING! The entire hotel is beautiful and so modern! We were dining at their new restaurant –
Red Roost Tavern
– and if you ever ate at Champs – you will be SHOCKED! In a really really good way!
The restaurant is a bit dimly lit and I'm using my iPhone – so sorry my pics aren't DSLR quality! There are a lot of little nooks in Red Roost – so if you're there with a big group or just one other person – you an find a nook for you!
This wall is amazing – right?!
It's an open kitchen and fairly formal dining area. Obviously not very busy – I have to say – it won't be like this for long! (hint of things to come)
The menu is farm to table and they pride themselves on letting you know where everything comes from – good stuff.
They also have a nice selection of local beers – Larry was giddy to find another place with his beloved Bourbon Barrel Ale on tap. If you like bourbon – you gotta try this beer – and it's a lot better on tap!
I started with crab cakes ($14) – poor Larry had to just watch and wait – but he said it was okay!
These were delicious! The crab was light and sweet and the cakes themselves were full of crab and very little "filler"; the honey chile mayo was sweet with a little kick; and the surprise was the slaw – it was crunchy and sweet and spicy and a perfect combination. The crab cake is so warm, the sauce so creamy and then the slaw is this biting crunch! Loved it!
I decided (after much debate) on the Fish & Chips ($23) – which was baked code and elephant garlic chips with a malt vinegar reduction. You also choose two sides from a list of 8 options – I chose the peppered pappardelle and roasted mushrooms. What I loved was that they didn't just plop the pasta next to the fish. They layered it all like it was meant to be together from the beginning. It was like I created my own dish!
And I did a damn good job – cuz this was awesome! The cod – delicious: flaky, thick, rich, light, heavenly. The pappardelle was definitely al dente (I would have liked it cooked a TINY bit more) and definitely fresh pasta (yum). The mushrooms were great too – and soaked up that malt vinegar reduction like butta! The combo went together beautifully. The only thing I didn't love were the elephant garlic chips – they were chips made of garlic. They just weren't tasty – I did crumble a couple and sprinkle on the dish and liked that.
We debated on one of us getting beef – but we were both in the mood for fish – so Larry went for the Cedar plank wild caught salmon ($26) with mustard glaze and grapefruit butter sauce. He got grilled asparagus and sour cream & chive mashed potatoes.
His salmon was delicious! It had that full flavor that good salmon should have – so good. The mashed potatoes were creamy and thick! The asparagus was fine – a little woody on the ends. Good choice!
Lastly – I had to get dessert! I chose the Lemon Brulee with blueberries ($6). I absolutely LOVE brulee and this was exceptional! I had brulee recently somewhere and it was awful! This was a great rebound! The lemon – which can get overpowering – was delightful! Loved it!
Chef Bernard came out and chatted with us – he's been with Hyatt for quite a long time and opened restaurants all over the country. He's been in Vegas, Hawaii and now – Cincinnati! (eek – poor guy – JK) He's also started The Market which has sandwiches, coffee, snacks and more. It's in the lobby area of the Hyatt.
And then there's this open seating area – very modern and minimal – I think it's really unique for Cincinnati. We have plush and palatial – this is filling a void. Love it!
Why Should You Go? Our dinners were both really great! This was a wonderful date night for us – it was soooo surprising! I had been to Champs, then I knew this was called "Tavern" – so my expectations were low and were BLOWN AWAY. The service was excellent, the staff was uber-friendly (they did know I was a blogger though) and the food was great!
We both agreed we would go back in a hot minute!

* Our meal was comped but I'm being totally honest in my delight over the food. I wouldn't steer you wrong for pricier food – I promise!