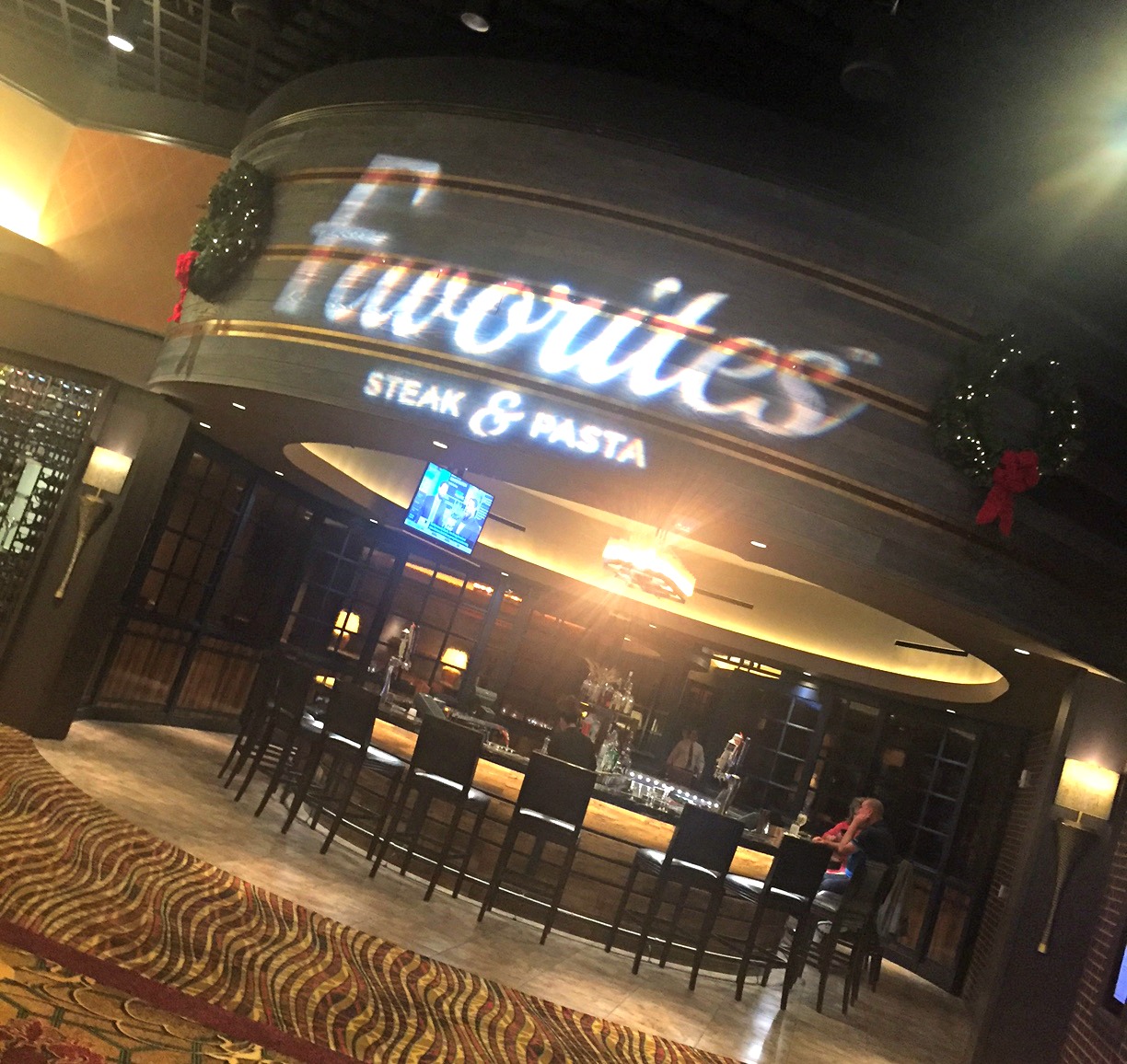 Favorites is located in the back of the Belterra Park Gaming Center and also has a great view of the race track. There's also a private room in the back with an to the Chef's area which is where we got to eat.
The Chef came out and introduced himself to us and delivered this delightful amuse bouche and it's probably one of the best I've ever had. If you're not familiar, an amuse bouche is a one-bite "appetizer" of sorts to kick the meal off. They're typically super complex and exquisite – and this was exactly that. With toast, bacon, avocado, cheese and more – it was super fancy and super tasty!
While we all introduced ourselves to the Chef and Marketing Guru Extraordinaire (he goes by Steve) – we noshed on delicious fresh breads with our choice of olive oil & seasonings or my favorite…
Soft butter with salt & herbs!!! And yes – pretty sure I ate that whole round myself. There is nothing better than salt, butter and bread. So simple…so delicious.
Okay – maybe I went too far when I said "nothing better" because I'm now obsessed with burrata which is a mozzarella that's gooey in the middle. Chef brought this out as a charcuterie on steroids and it did not disappoint! There's salami, pesto, cheese, sauce, crunchy things – ugh – just a plate of heaven.
ICEBERG WEDGE SALAD
bacon, chopped egg, shredded carrots, shredded purple cabbage, choice of dressing $6
I tried their Wedge Salad and it was LOADED – which I always love! This was loaded up with such beautiful colors (which means lots of nutrients) and lots of blue cheese – which I'm okay with. It's funny – I don't love blue on its own but when it's in a big ol' salad – I love it!
BROCCOLINI
sautéed, shallots, garlic $5
I have recently discovered and fell in love with broccolini – it's so much more tender than regular broccoli! This was excellent – people made a little fun of me for eating veggies when so much other stuff was so decadent but I love it!
NANA'S SPAGHETTI AND MEATBALLS
hand rolled veal, pork and beef meatballs, Parmesan Reggiano, marinara $15
Chef shared with us that his this is a family recipe and he was very proud of it. We didn't actually get the spaghetti – just got a side of the meatballs since he told us so much about them. I liked them but didn't love them – I'm picky about meatballs – still searching for perfection. The sauce was fantastic though.
24-oz BONE IN RIBEYE, 38 Day Dry Aged $49
I got the bone-in ribeye – a ribeye is always my favorite cut of steak. There's more fat and flavor in the ribeye than the NY strip. The bone-in serving is always fun – I mean look at that hunk of cow!
Perfect medium rare! Now with all of the other things that we got to try – I barely put a dent in this behemoth – but trust me – I took it home and hubby was more than happy to finish it off for me! The outside char was fantastic – so crispy and seared – I love a good steak!
The chef also served us his homemade gnocchi with a bolognese sauce – and I even found a video on how they make the gnocchi:
CAVATELLI
crumbled italian sausage, broccoli rabe and
white beans $17 | tasting $9
My favorite dish of the night was the Chef's special – it was homemade cavatelli pasta with cannelini beans, broccoli rabe and housemade sausage – so freakin good! It's a family recipe and I could see why! I wouldn't normally think of putting beans in a dish like this but it was really good.
Then we were treated to an amazing trio of desserts with a chocolate lava cake, lemon blueberry cheesecake and a creme brulee. The brulee was a really unique chocolate praline and served with a side of sorbet and shortbread. Everybody loved the shortbread except for me – but I killed the rest of the desserts! Like KILLED them. Other people were whining about being full and can't move – I powered through baby! They were all simply heavenly!
Why Should You Go?
I think the unique thing to me is that I really don't expect casino restaurants to be this good. Favorites was amazing all the way through! The service was great, the food was excellent and the selection was wide. I've recommended it to numerous people and can't wait to go back myself. If you're looking for a really nice dinner – this is the place.