I love meeting up with former coworkers – we always try and go someplace new but affordable and – since we live on opposite sides of town – somewhere centrally located. This time we were really excited about the new place we were going to try!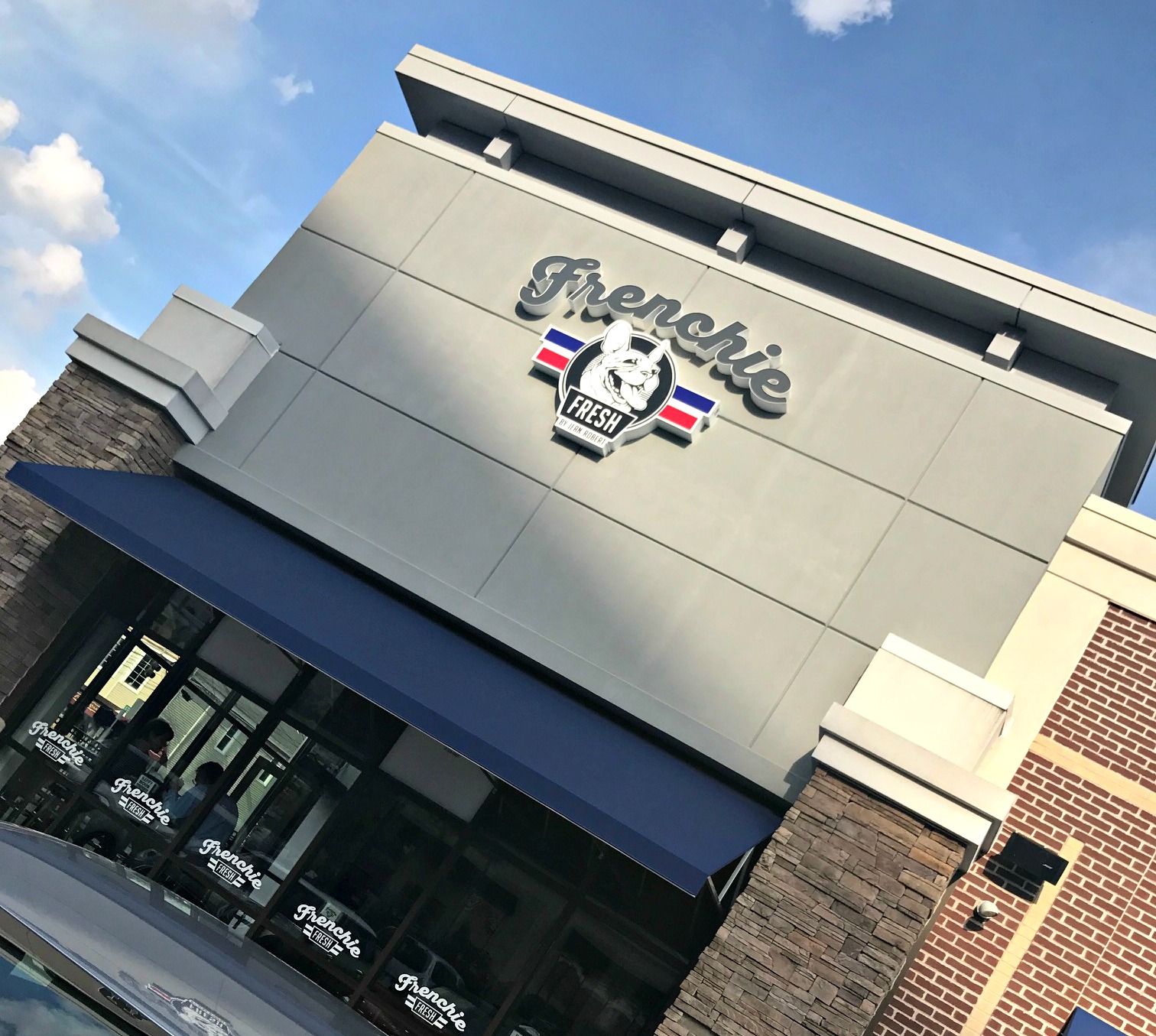 Frenchie Fresh is the fast casual burger place recently opened by Jean Robert. Yes – the acclaimed French chef that Cincinnati loves – now has a restaurant that serves casual food for under $15!
It's in the new development area of Rookwood by Jason's Deli and is in the former spot of Lime Taqueria. (RIP Lime) You order at the counter and they bring your burgers out to you. There's a good selection of soups, salads, mac & cheese, burgers and even a few specialty sandwiches – definitely a big menu for a small place.
Kansas City Beef with American Cheese,

​
Lettuce, Tomato and Red Onion
You can get the burgers American or Frenchie style – Frenchie is served open faced on an herbed baguette – we all chose that.
Kansas City Beef with Garlic and Herb Cheese
​
Vegetarian Mac & Cheese: Penne Pasta, Leeks, Celery, Mushrooms and
Creamy Cheesy Béchamel Sauce ($7)
I'm such a macaroni and cheese addict – I had to try it. I went for the cheapest option – the vegetarian which featured leeks, celery and mushrooms. It was very very good. Not what I think of when you say Mac & Cheese but very good – definitely elevated.
Frenchie Way (open faced): Texas Wagyu +
Roasted Tomato Provençal + Olive Tapenade + Goat Cheese ($15)
Then I decided to make my own burger – there were so many interesting toppings and "burger" options (Beef, Turkey, Bison, Chicken, Wagyu, Lamb and Veggie) – that it was screaming for someone to do a make-your-own creation. I went all out with Wagyu, fun toppings like olive tapenade and roasted tomatoes and then topped it off with a big hunk of goat cheese.
Why Should You Go?

I definitely think it's worth a try – it's a totally different vibe than Terry's Turf Club but the burger selection is on par. I'm a little worried as the night we were there – it was really dead and the only other people there were literally in a wheelchair and had oxygen. So I say – GO WHILE YOU CAN!