I'm all about soup & sandwich places – I guess because I've tried some lately (like
Ladles in Oakley
).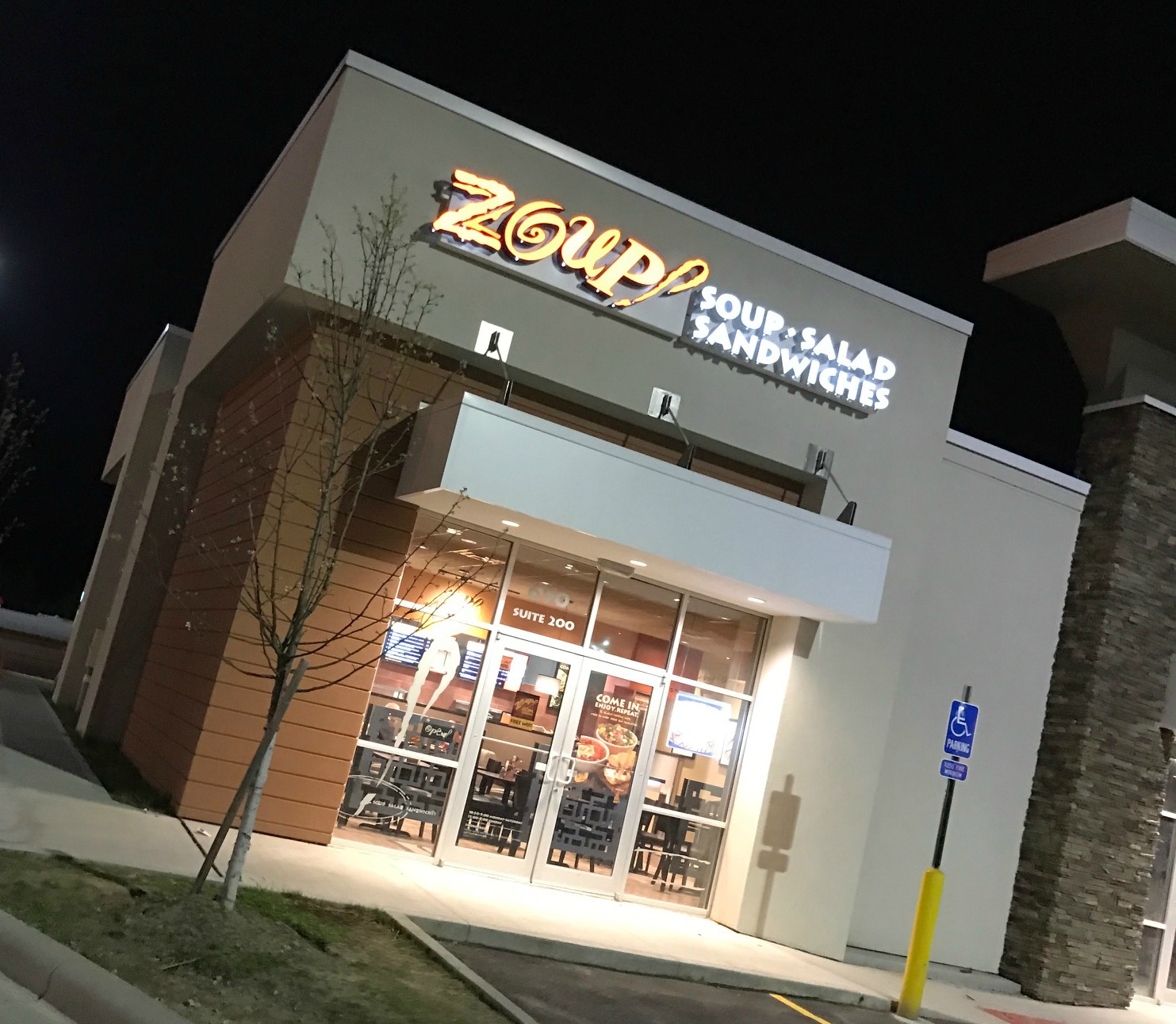 Then I realized I had gift certificates to Zoup burning a darned hole in my purse! So off to their newest location in Eastgate we went! (They're coming to Norwood by the end of 2017.) This is very near the Jungle Jims as a point of reference.
I like that they have all these soups on hand and you can try them before you make your selection! There's nothing worse than having a ton of choices and making the wrong one! A few that sound good are chicken fajita, pepper steak and turkey chili.
They also have salads and sandwiches – here are few that sound super tasty:
Loco Burrito Salad: Romaine, grilled chicken, cheddar, pico de gallo, avocado, fajita lime sauce, & corn tortilla strips. Served with chipotle ranch dressing.
Power Quinoa Salad: Romaine, feta, baby kale, quinoa and brown rice, carrots, fresh red peppers, cucumber & avocado. Served with balsamic vinaigrette dressing.
Pesto 3 Cheese Sandwich: Pepper jack, provolone, mild cheddar, tomato, & pesto. Toasted on country french.
Chicken Toscana Sandwich: Grilled chicken, provolone, roasted red peppers, marinated red onions, & basil mayo. Toasted on country french.
You can get the soups in a bunch of different sizes from side to XL – because that really is their specialty. I liked that they have a "you pick two" like Panera because soup is fine – but I need some meat! #thatswhatshesaid
They also have ready-to-go cookies which I didn't partake in but I was definitely tempted!
Larry chose the Turkey Club (turkey, bacon, swiss cheese, tomato + mayo on country french) and a cup of the Chicken Pot Pie soup. Their meals are also served with a little bread roll – which is great for dipping in the soup. He really liked his choices and LOVED the bread.
I went for the Maple Bacon & Ham (ham, bacon, swiss + maple aioli on country french) and the lobster bisque. I love cream soups and this lobster bisque had a lot of pieces of lobster and crawfish – so that was great. But the sandwich and the bread were the real stars. They have a toaster oven that all of the sandwiches go into cuz I have to have a hot sandwich!
Why Should You Go? It was really good and that bread was so crunchy and soft – I've been thinking about it ever since! So yes – Go! They have Cincinnati locations in Eastgate, Clifton and Mason.
And now – you can win a meal for you and a friend! There are two certificates for a meal (bowl, salad, sandwich or you pick two) – just check out the menu and let me know what you want to try and you'll be entered to win!