This post is sponsored by Iron Office Nutrition. All opinions are my own.
Eating healthy at work is not easy. I'm either packing leftovers, eating frozen meals that give you small portions and taste like dookie or I'm eating a gazillion calories at the myriad of restaurants right outside my door. It's one of the easiest areas of improvement for me – especially once I found
Iron Office Nutrition
!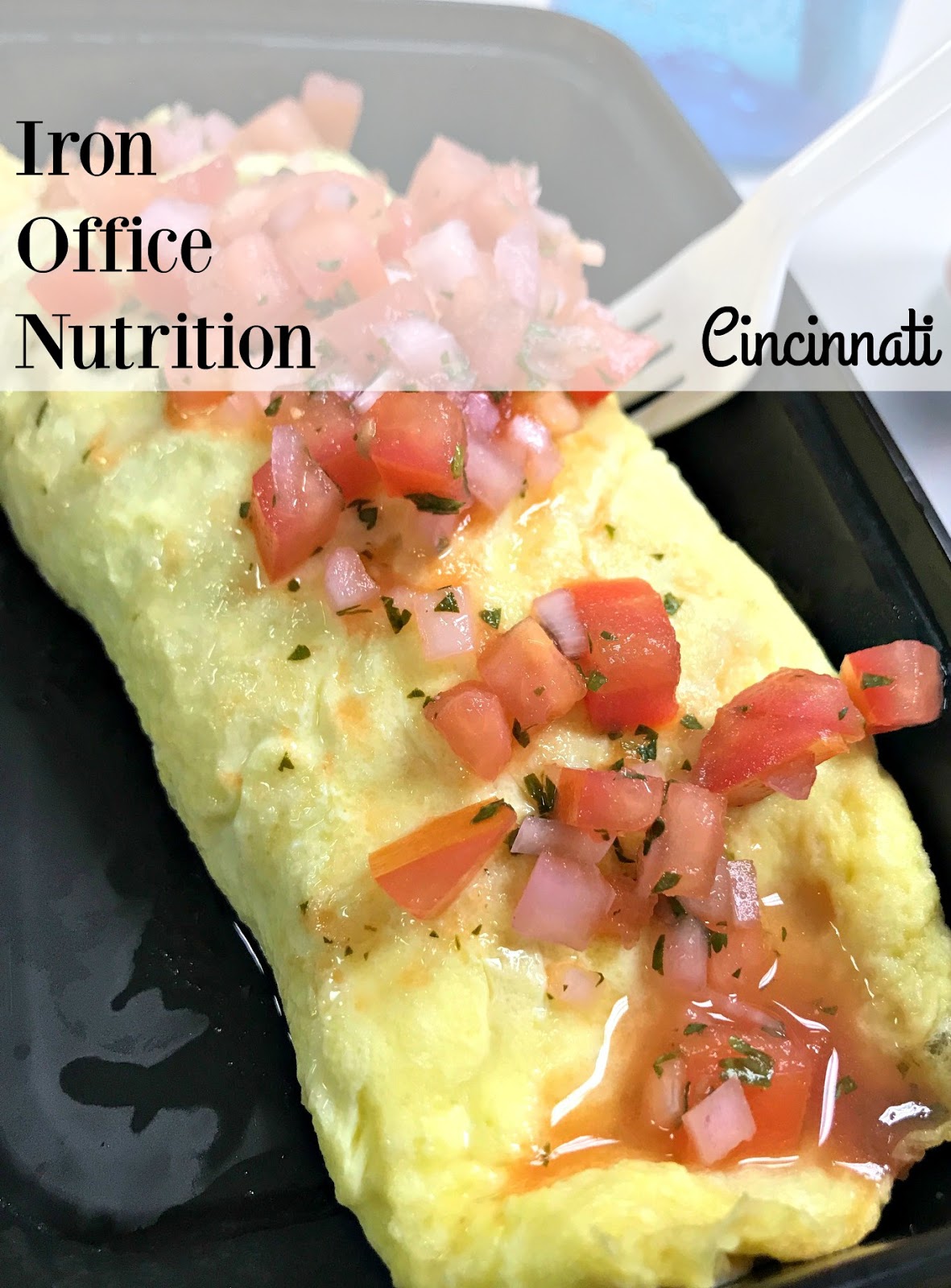 Iron Office Nutrition is a local Cincinnati startup from local guys that focus on nutrition and amazing food. Kevin is a chef that graduated from MCI, Tyler is from Miamisburg and has worked in restaurant marketing, Maria has a BS in Dietetics from UC and Lillian is a professional chef.
They've put together this great concept where you order meals online, they prepare them fresh and deliver them to you on Monday mornings! They focus on lean proteins, complex carbs and vitamin rich vegetables. They pride themselves that everything is:
Fresh, not frozen
Local whenever possible
Preservative free
Prepared in house
You can do meals in a package of breakfast & lunch or lunch & dinner which is definitely a better deal financially and still gives you a good deal of flexibility – or you can select your individual meals. I chose a breakfast & lunch package the first week for $90 and then did a choose your own the second week.
Then meals are delivered to you on Sunday (or Monday) for a nominal $6 charge. I had them delivered on Mondays since I was using them for work. Tyler popped by and brought my meals all packaged up in a branded reusable bag. Each has microwave instructions and full nutrition info.
But here's the real question – HOW DID THEY TASTE?????
Overall – they were delicious! I am really glad I let them pick most of the meals for the first week – because it took me out of my comfort zone a bit. I ate KALE for pete's sake!!!
This was the Grilled Sesame Salmon with Rice & Mango Cabbage Slaw – the salmon is cooked perfectly. I wasn't sure if I was supposed to pour the sauce on before or after I cooked it so I went with after. I also wasn't sure about microwaving the slaw (I did) and it was good. I am not a fan of brown rice but this was really delicious! And I can't even explain how much better it was than my coworker's Lean Cuisine!
This was definitely also my favorite dish – if you try Iron Office – I would HIGHLY recommend trying this dish in particular!
I also had some breakfast meals like this Steak & Eggs. I will say – I'm a medium rare girl on steak and when you microwave steak it gets too well done. Their meals also like garlic – a lot! So if you're not a fan – I would make a note to them. All in all – this one was good and well seasoned.
Grilled Pork Tenderloin with Sweet Potatoes & Roasted Root Veggies: The pork was still juicy even after microwaving which shows they did not overcook it. This dish was spicy though – a little too much for me. I loved the Brussels sprouts and onions though – very good. I think this one could benefit from a sauce of some kind. Even with that – it tastes restaurant quality. Again – 1000% better than Lean Cuisine!!!
Kale Caesar with Flank Steak – this salad was really delicious but I did skip the chickpeas. Heating it up was a bit odd since I had to remove the steak and quinoa (cold quinoa – ew) to heat that but not the kale. Even so – it tasted great and I loved it!

One of my favorites.
Chef Salad with Chicken & Green Goddess dressing – This was really tasty and I had a lot of jealous people on Instagram! The radishes!!! I forget about radishes! I hated them as a kid but now – I love them! I heated up the chicken and it was still juicy – good stuff!
Braised Pot Roast with Charred Garlic Beans & Roasted Red Potatoes – this wasn't a favorite. It lacked salt, the meat was a bit dry and needed fat trimmed. Potatoes were dry as well.
Pulled Pork and Sweet Potato Hash with Eggs and Tomatillo Salsa – this was one of my favorites. I feel like I still would love some sour cream – but it's really good.
Turkey Bolognese with Whole Wheat Pasta & Sauteed Kale – garlic – they love garlic at Iron Office! I wouldn't think to top a pasta bolognese with kale but it's nice – adds a different texture sort of like mushrooms would. Again – much better than any Lean Cuisine I've ever had. If anything I would like more sauce.
Salmon with Cauliflower Mash & Roasted Root Veggies – I had never had a cauliflower mash – I think they mix it with mashed red potatoes and I liked it – couldn't tell the difference. Everything was good – needing sauce or something but a very tasty meal. This was one that I put together myself – which is also a meal option.
All in all – Iron Office Nutrition is such a great option if you're wanting to have healthy meals but don't have the time to prep them. The cost per meal if you don't do a package is comparable to a restaurant meal – but this has the convenience of being delivered to you and freshly prepared with no preservatives or extra junk you don't need.
I hope you'll give them a try! Tyler was really helpful and answered all of my questions and the meals were healthy, nutritious and delicious! I will definitely be using Iron Office Nutrition in the future!