I'm always on the hunt for new tacos and a couple of days ago – I tried Gutierrez Deli – a tiny little deli in Covington. Today – on the other end of the spectrum – a fancyish restaurant downtown called Lalo Cincinnati.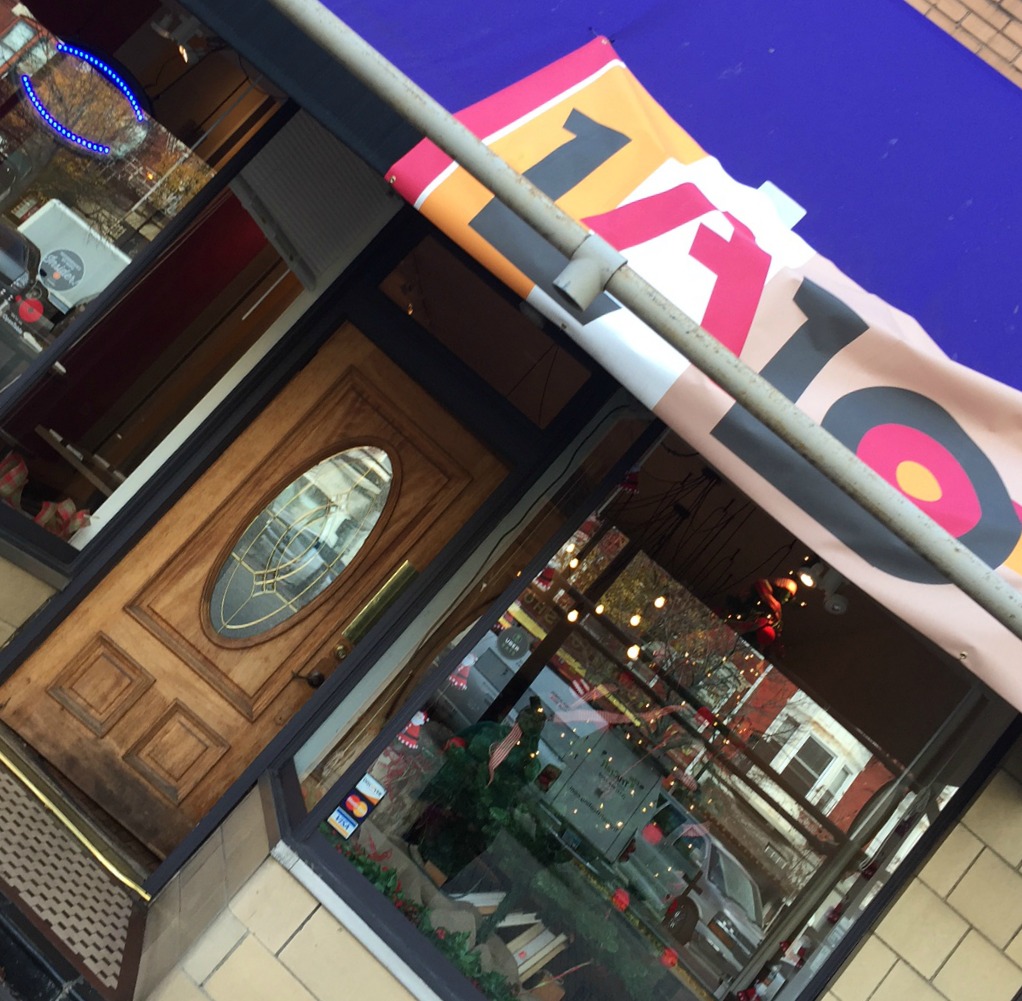 On Court Street – Lalo used to be Huit BBQ which I went to once. I liked my Bi Bim Bap but thought it was a little pricey. Inside it's a tiny little place – but a cute design. A coworker and I went for lunch on a rather cold day – unfortunately the door doesn't like to shut unless people REALLY shut it – so we were freezing our entire lunch. The staff tried to keep on it but it was a bit futile.
Fried Rice Al Pastor
Grilled pork 'Al Pastor', pineapple, and onions. Garnished with arugula and pickled carrots
Audrey went for the Fried Rice Al Pastor – she actually introduced me to the fact that the Pastor pork has pineapple and is usually juicier than carnitas so this dish sounded great. In reality this dish was EXTREMELY dry and had enough rice for 3 people. It wasn't just the rice – the pork itself was even dry. Disappointing for sure.
Drunken Brisket $3.50 (top)
Huit famous Brisket stewed in a wine sauce and spices, Topped with queso fresco, arugula and radish
Pork Carnitas $3 (bottom)
Traditional tender simmered pork Topped with pickled red onions and cilantro
I went for tacos and got two tacos – a Drunken Brisket and a Carnitas. They were really small – like maybe 4″ across. They were also both really dry. I was really disappointed in the tacos.
Charro Chili
Pinto beans, bacon and chorizo in tomato and chili sauce. Served with house-made wonton chips
I also ordered the chili when I ordered my meal. I'll tell you the good first – it was INCREDIBLE. I mean seriously – this is one of the best soups I have ever had in my life.
But…I would be shocked if this is not a soup that has been cooking and simmering for some hours. I ordered this thinking it would come before my tacos. It actually came about 15 minutes AFTER my tacos. The server apologized and said it took a while to make. We were both done with our lunch when it came.
Again – it was worth the wait and by far the best part of the lunch. But waiting 35-45 minutes for a bowl of soup was a little cra.
Why Should You Go? Well – the soup was amazing. The service left something to be desired.