I've long wanted to visit
The Works Pizza
in Loveland. It's in a really cool building and has a brick oven – which is my favorite way to cook pizza.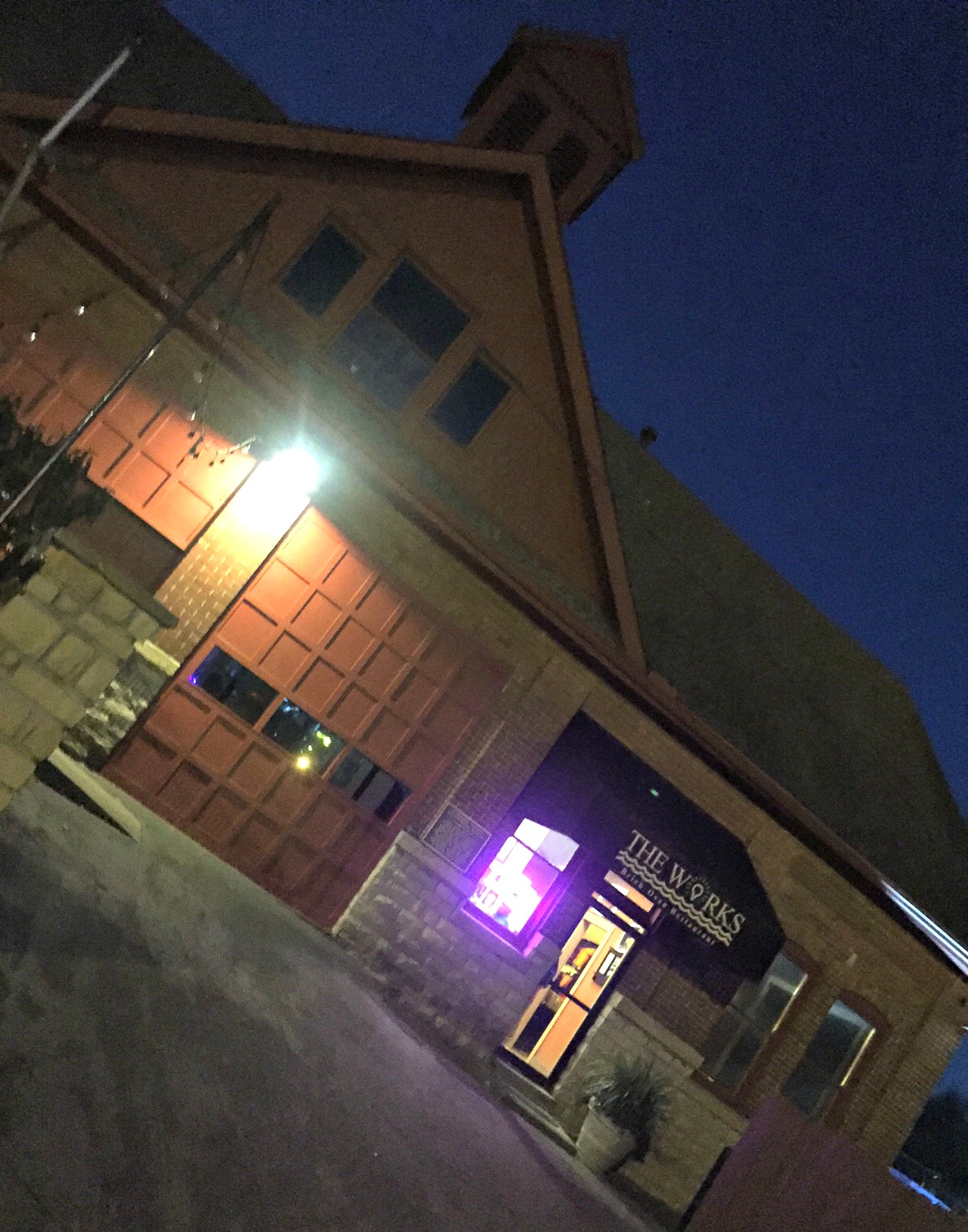 The building in which The Works resides has historical significance in Loveland. This landmark was built in 1905 and served originally as a water filling station for steam locomotives. Later on, the building served as the firehouse and public works building.
We got there before our friends and I was starving so we got the pretzels and cheese ($4.95). They're super crispy and salty on the outside and light and airy on the inside. The cheese was great too – definite YES on this one.
I also looked around – because the building is very wide open – it's an interesting place for a restaurant. It's a bit chilly just because of the large open space and big old building. They have a cool mural above the oven and some interesting art pieces around.
There was a cool metal plate with a local flair on the wall under a stoplight.
Once our friends arrived – they were starving too! So they got an order of potato cakes ($7.99) which were basically just flat tater tots. It also says on the menu they're served with sour cream and bruschetta. Not sure what world tomato slices are bruschetta but we'll let them have that one I guess.
We both decided to do a create your own pizza. They have a lot of great toppings to choose from including 7 sauces (bbq, pesto, tomato, alfredo, ranch, fajita and oil). The toppings have a lot of variety as well with artichokes, bacon, black or green olives, broccoli, chicken, garlic, ham, mushrooms, onions, pepperoni, peppers, sausage, shrimp, zucchini, banana peppers, spinach, tomatoes and pineapple.
The pizzas were great – super crispy light crust – quality toppings and delicious taste. We all killed the pizzas and had a great night. That is the way to hang out with good friends!
Why Should You Go? They have a great menu selection and delicious pizza and pretzels – definitely do it! Plus – downtown Loveland is great – go on a nice day so you can walk around and have fun before you put down some pizza!