Thanks to Allison Fishman and Cooking Light – I'm now a whole grain fan. I can't believe it's true. But eating 3 servings a day isn't that hard! You can keep up with my progress and the blog here on CookingLight.com.
Because of this challenge – I've been trying to find whole grains that I like and now – I like/love quinoa. After you cook it – use it just like you would rice – the only difference – it's actually good for you! No matter how much we like white rice – there's pretty much no nutritional value there. Quinoa on the other hand is packed full of goodness!
So now – I search for recipes with quinoa that I think Larry and I will like. I found one a few days back that I had to try: Quinoa Pilaf with Salmon & Asparagus. Larry isn't much of a fan of veges but he does like asparagus – so it was worth a shot.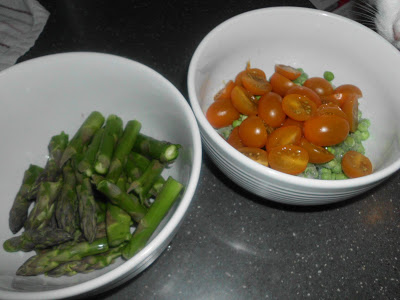 Fresh asparagus from whole foods, some very sweet yellowish red grape tomatoes and frozen peas…all ready to go.
Cooking quinoa is so easy – boil 2 cups of chicken broth (or water) then add 1 cup quinoa – simmer for 10-15 min and voila – DONE! I leave it for a bit just to get it all fully "popped" and cooked through.
This recipe had me poaching the salmon in chicken broth/water…it called for skin-on salmon but I bought skin-free from Meijer and it worked just fine and was easier.
After the salmon is done, remove that and start cooking the veges.
After the salmon has cooled a bit – I broke it into chunks…so much better than canned – yuck! The cats were circling like sharks in the ocean – it was pretty funny.
Then mix it all together. You have to be a bit gingerly or the salmon will just fall into tiny pieces – so I mixed in the quinoa first – then added the salmon last. There were seasonings along the way that are in the recipe.
Funny thing is – Larry jokes that sometimes my recipes come out and look like "slop". He says "Oooooh what kind of slop are we having tonight?" Well – this did look like slop. I laughed and said – "Honey – it's salmon slop tonight!"
But even though it looked like slop – it tasted GREAT! We both really enjoyed it. The vegetables were added a lot and seriously – so did the chicken broth. I never ever cook quinoa with water – I really think the broth adds a lot of flavor but doesn't compete with the salmon. And poaching the salmon definitely mellows it – it wasn't strong at all.
So another whole grain recipe success! And I just found out corn is a whole grain too – I'm going to be getting some corn on the cob this weekend!
Next recipe has quinoa and white beans – mmmmmmm!
Betty Tip: This main dish tastes as good as it looks and will be requested again and again. Vegetable broth and chicken broth are available in convenient 32-ounce resealable cartons. Cooking grains in broth adds flavor and pizzazz to your recipes.
Prep Time: 30 Minutes
Start To Finish: 30 Minutes
4 Servings (1 3/4 cups each)
Whole Grain Serving: 2
Ingredients
• 1 cup uncooked quinoa
• 6 cups water
• 1 vegetable bouillon cube
• 1 lb salmon fillets
• 2 tablespoons butter or margarine
• 20 stalks fresh asparagus, cut diagonally into 2-inch pieces (2 cups)
• 4 medium green onions, sliced (1/4 cup)
• 1 cup frozen sweet peas (from 1-lb bag), thawed
• 1/2 cup halved grape tomatoes
• 1/2 cup vegetable or chicken broth
• 1 teaspoon lemon-pepper seasoning
• 2 teaspoons chopped fresh or 1/2 teaspoon dried dill weed
Directions
1. Rinse quinoa thoroughly by placing in a fine-mesh strainer and holding under cold running water until water runs clear; drain well.
2. In 2-quart saucepan, heat 2 cups of the water to boiling over high heat. Add quinoa; reduce heat to low. Cover; simmer 10 to 12 minutes or until water is absorbed.
3. Meanwhile, in 12-inch skillet, heat remaining 4 cups water and bouillon cube to boiling over high heat. Add salmon, skin side up; reduce heat to low. Cover; simmer 10 to 12 minutes or until fish flakes easily with fork. Remove with slotted spoon to plate; let cool. Discard water. Remove skin from salmon; break into large pieces.
4. Meanwhile, rinse and dry skillet. Melt butter in skillet over medium heat. Add asparagus; cook 5 minutes, stirring frequently. Stir in onions; cook 1 minute, stirring frequently. Stir in peas, tomatoes and broth; cook 1 minute.
5. Gently stir quinoa, salmon, lemon-pepper seasoning and dill weed into asparagus mixture. Cover; cook about 2 minutes or until thoroughly heated.
Nutrition1 Serving: Calories 420 (Calories from Fat 140); Total Fat 15g (Saturated Fat 6g; Trans Fat 0g); Cholesterol 90mg; Sodium 650mg; Total Carbohydrate 37g (Dietary Fiber 5g; Sugars 6g); Protein 34g
% Daily Value: Vitamin A 35%; Vitamin C 20%; Calcium 8%; Iron 30%
Exchanges: 1 1/2 Starch, 1/2 Other Carbohydrate, 1 Vegetable, 4 Lean Meat, 1/2 Fat
Carbohydrate Choices: 2 1/2