As I've mentioned before – I've never been to Jeff Ruby's for steak. The only Ruby's I've been to is Bootsy's. I just have a hard time justifying $35 for a steak! But this week – I finally got the chance! Our clients from Mother's Cookies were in town and we took them out to the Waterfront and last minute – I got the invite to go along!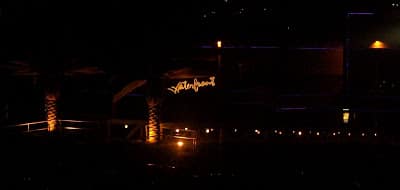 Jeff Ruby's Waterfront is on the Covington side of the river next to White Castle! It's sort of funny to have a really expensive fancy place next to dirty ol' White Castle! But hey – I love my sliders.

It sort of has the look of a casino. My good friend Liz over at Get in Mah Belly just reviewed it and definitely mentioned all the fabulous Miami Viceness that is the Waterfront. The palm trees – the neon – we even nicknamed a couple of the clients Crocket and Tubbs for the night.
The inside has some impressive sights – this seafood bar looked out of this world and was one thing I was definitely looking forward to.
One coworker got a martini with bleu cheese stuffed olives…I'm not much of a drinker so I stuck with the Diet Pepsi. Don't need to get schnockered with the clients!
Warm fresh bread was served with some herbed butter. It had a paper with Jeff's (like we're buds – Jeff) signature initials. People thought the signature was in the butter in oil or something but I sadly told them – no it's just paper – seems more obvious in this picture – but it's dark in the restaurant.
The menu is giant. Not as in the amount of items – just literally the menu itself. Notice the proportion compared to the fork leaned up against it! It was the size of a small child.
Ah the seafood! We had two HUGE plates of seafood delivered to us along with shrimp sauce and a sweet mustard. There was king crab, some other crab and shrimp as big as my head. This to me was THE highlight.
I was enjoying the crab claws and shrimp – then decided to try the King Crab legs sticking up in the middle. OMG they were sooooooo sweet and delicious. I wanted to finish off the plate but knew there was ginormous amounts of steak headed my way so I refrained. I should have gone for the gusto – argh – I want more of that crab!
So if you go – get some of this wonderfulness – seriously!
A couple people dabbled in sushi – the picture sucks – sorry. They were all pretty pleased with it. I think there was a B+ thrown around. When they found out they were dining with THE Food Hussy – they all had opinions to share! 🙂
With the steak you get a salad and potato. You can have either the Freddie (BLT) or the Greek for salad. I chose Freddie… Not very photogenic that Freddie – but it tasted pretty good. Not great…but okay. I'd rather have Larosa's BLT salad actually.
My table neighbor got the greek…forgot to ask him about it. But really – it's a simple plain greek salad…nothing special here either.
And now…the steak. I took my head honcho's advice and got the Jeff Ruby Jewel. It's a 24-oz bone-in ribeye for $34.50. It was in the middle of the price range and had the bone-in which is usually juicier. I got it with just the seasoning because I really wanted to taste the steak itself and see if it was going to meet the expectations that preceeded it. I was sure there would be plenty to take home to the BF as well – since he was working while I was having fun!
And now…the opinion. Meh…I think Jeff had an off-night.
1. It was a bit charred – like burned charred on the edges. I'm not a fan of the burnt flavor.
2. I ordered medium rare – it was medium.
3. It was fatty and greasy. Like greazzzzzzy.
I was definitely disappointed. It wasn't just me either – I asked the honcho his thoughts since it was his reco and he said the same thing – it was a little off.
I really was hoping for a knock-my-socks off experience…kinda glad I wasn't paying the bill!
I must end with a plug for the fabulous clients – we love our Mother's Cookies! If you're not familiar with them – there is a reason – they're a West Coast brand. Earlier this year they went out of production but Kellogg's snatched them up and brought them back! Any Mother Lovers out there? I love the Double Fudge and the Circus Animal cookies (shown above).
If you do remember Mothers and have a craving for them – you can get them online! Buy Mother's Cookies online!
Hey – I gotta plug the clients!