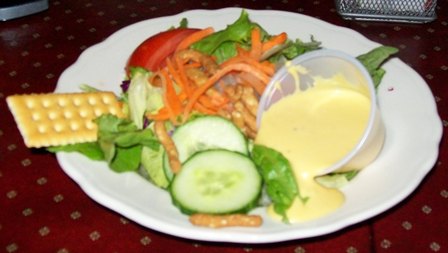 So the other night my buddy Scott and his family headed to the Greyhound Tavern in NKY after a big day at Keeneland! They were lucky enough to have me join them! haha
I started out normally with a side salad…nothing interesting there – iceberg lettuce, blah blah blah. The honey mustard was good though. They also had sesame sticks on the salad which is nice crunch.
Then I decided to try the fried chicken for my main dish – I've heard so much about the chicken – I had to get some!
I must also mention the crusty bread – it was perfect! Crusty and soft and served warm with softened butter. Good job Greyhound Tavern!
Before we visit the chicken – lets discuss the sides – pretty bad I have to say. The only plain vegetable they had to offer was mushrooms. (spinach casserole and carrot souffle weren't peaking my interest – gak!) They were kind of tasty but really salty and just an odd "vegetable" side – I mean – broccoli or beans – yes – but mushrooms? Then, the mashed potatoes – gak! They were like the kind I used to have in the Swanson Frozen Dinners as a kid! You remember how they kind of came out all in one chunk and you had to eat them just so your parents would let you have the brownie? Oh man – those brownies were good – but these mashed taters weren't!
But now – the chicken – really great chicken!!!! We got 4 pieces (leg, wing, breast, thigh) and they were perfectly cooked. Extremely flavorful, the seasoning was tasty but not too much of anything! With all the extras – I only ate the leg & wing – so I had 2 pieces left to take home!
All in all – the meal was up and down – great fried chicken – I'd recommend that – and the bread – very very good. The rest – meh…
Then the price – I had a soda, fried chicken and salad and it was $22 – that seems high to me…I just kinda felt like $20+ was a bit much.
Because of the awesomeness of the chicken – I'll go with 3 stars…
Re: atmosphere – I would say it's been well documented as sort of "an old people place" – and that held true…but hey – good fried chicken is good fried chicken! So – if you're looking for a place to take your family – head to the Greyhound Tavern off Buttermilk Pike in NKY.
Greyhound Tavern
2500 Dixie Highway, Fort Mitchell, KY. 41017
(859) 331-3767 (859) 331-3409 (fax)