I have driven by this completely obnoxious display hundreds of times on Reading Rd and finally decided we had to stop!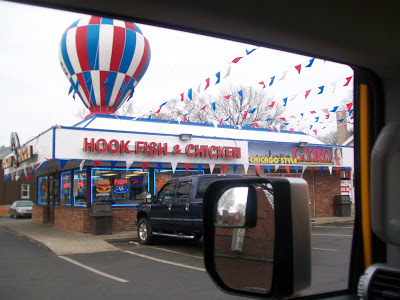 The hot air balloon – the streamers – it's like a used car lot that went out of business and started selling chicken!
This is a take-out place – there are a couple of tables inside but mainly just meant for waiting for your order to be made. We went through the drive-thru and it was S-L-O-O-O-O-W. But was it worth the wait?
I got the 3 piece perch that came with bread, coleslaw and fries. The fish was good – Larry liked it better than I did. It's a cornmeal type of breading and it was plentiful. There was a LOT of fish in these three pieces.
The slaw was really good – I ate his and mine. The fries sucked – cold and limp by the time I got home and the bread – well I don't know why it was there and I didn't eat it.
Larry got chicken wings and no idea why but they throw salt on the top of each meal before they shut the box – but hey – I like salt.
The wings were really good as well – we shared our meals and enjoyed them both. They were not greasy at all – that's the one thing I was surprised about.
I also have to say they have a definite "process" for the orders and it's pretty fun to watch. The boxes don't even shut they're so full!
Why Should You Go: If you're looking for an alternative to the oily of KFC, etc… it's a good choice. I'd just get the meat and skips the fries!