I keep trying to cook enough food so that we have leftovers to bring for lunch – but it never works! My husband eats a lot!
So here I am again – packing frozen lunches – but hey – this one was pretty darned good!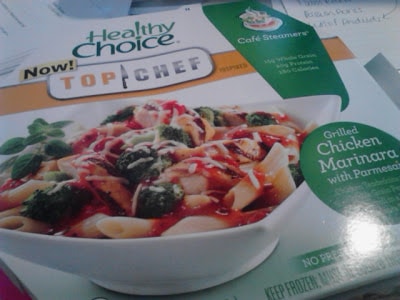 After steaming – it really is a plentiful amount of food!
The marinara wasn't too sweet – and had a lot of flavor!
Stir and Yum!
Here are my notes:
Flavor – Really good! Pasta cooked nicely – a bit al dente, marinara isn't too sweet, not screaming for salt. The broccoli added a bit of crunch and the little bit of cheese was a nice touch.
Meat – Big thick pieces of chicken – nice!
Cooking – Excellent – no issues!
Cost – $2.75 no coupons this week 🙁
Nutrition – 280 calories, 4.5 grams fat, 570 mg sodium
Allergens – wheat, egg, soy, milk
Fullness Factor – good!
This turned out to be one of my favorites so far – so this one gets a Fonzie Thumbs Up! Hopefully there are some coupons and sales this weekend so I can stock up for next week!