I go through so many routines when it comes to my work eating routine – it's not even funny. It's just ridiculous. Sometimes I eat breakfast out and then pack my lunch every day. Sometimes when I pack my lunch – I can't stand the thought of anything frozen – other times – it's all I want.
Right now – I'm in a phase where I bought a 6 pack of english muffins and a jar of peanut butter and – voila – breakfast for a week!
I'm also in the mood for frozen lunches – who knows why?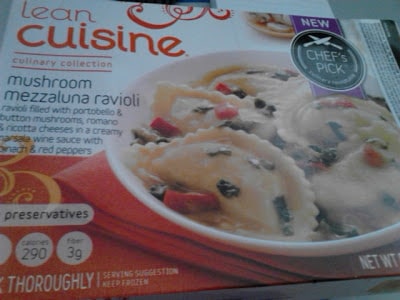 When I was perusing the Lean Cuisine selections at Meijer I cam across this one – Mushroom Mezzaluna Ravioli. Hmmm – I like mushroom, I like ravioli – let's try it!
Then I opened the box – oye – I thought it looked awful! Too much spinach! I was kinda disappointed and somewhat grossed out. But hey – I was hungry and I went for it. So how did it go?
Here are my notes:
Flavor – So good!!!! I was thoroughly shocked at how good. It was mushroomy and the sauce was full of flavor. The marsala wasn't overpowering (I'm not a huge fan) but was nice and creamy. Well done Lean Cuisine!
Meat – there's no meat here!
Cooking

– Excellent – no issues!

Cost – 4 for $10
Nutrition – 290 calories, 9 grams fat, 650 mg sodium
Allergens – milk, egg and wheat – the trifecta!
Fullness Factor – it was fine – I had my english muffin breakfast so I was already pretty full.
I definitely will be purchasing this one again – I could eat this a couple of days a week! Go try it!