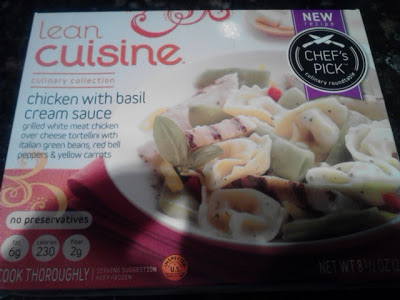 My tummy was drawn to this one – not by the springs of basil (really?) but mainly by the chicken, pasta, creamy sauce and vegetables.
And I have to say – the box photo is a pretty good representation of the actual food! Nice job!
Here are my notes:
Flavor – once I added salt, it's really tasty. I think this has a little much black pepper – I'm not a fan. The vegetables are crunchy and the pasta is cooked well. I don't taste much basil and the sauce is fairly bland.
Meat – Chicken is good but a little "processed" tasting – like the texture of chicken nugget meat
Time – directions say 5 minutes – I cooked it for 4 and it's good (it was one of those 3 min – then stir and go 2 more – I was too hungry to stir and wait)
Cooking – Excellent – no issues!
Cost – $2.75 no coupons this week 🙁 for LC
Nutrition – 230 calories, 6 grams fat (w00t!)
Allergens – milk, wheat, egg
Fullness Factor – my side item today is a Jello Temptation – Double Chocolate Pie – mm mm good!
So again – I'll give this a thumbs up! I think I would definitely buy this one again.