Again – the coupon bug hit me. I would say 9 times out of 10 – I'm the freak with the binder slowly going through Meijer weeding through pages of coupons hoping to get a deal. It's a little tedious at times but also fun and a bit of a "rush" getting a deal.
I had a coupon for $1 off 2
Stouffer's Farmers Harvest
meals and I chose the Roasted Chicken & Bowtie Pasta and the Vegetable Lasagna. They were like $2.75 each and then $1 off – so $4.50 for two.
Here's the pretty package shot…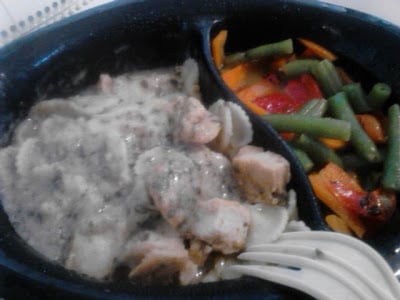 And here's the reality in the container.
Flavor – the pasta was really good – I liked the flavor a lot of the pesto/cream sauce. The vegetables were also fresh-tasting with a nice crunch to them. I'm realizing I don't love red peppers in frozen meals though – not cooked enough or something.
Pasta – good and there was quite a bit of it.
Cooking

– Excellent – no issues!

Cost – 2 for $4.50 after coupon
Nutrition – 430 calories, 18 grams fat (oh regular Stouffer's – boo!)
Allergens – not sure
Fullness Factor – good! I wasn't hungry after and there were a lot of vegetables!
I also tried the Vegetable Lasagna and let me just say – it did not look like that photo! It was really tasty but it deflated about an inch in the pan while it was cooking which made it not look so hot. But taste was good.
Overall – I like these two meals but probably won't buy them again because I don't get many coupons for them and tend to stick with the Lean Cuisine or Healthy Choice varieties. So the Stouffer's gets a "meh" from me. (Thanks to Charles Nelson Reilly for that one.)