Well I can no longer say BF – so we'll just have to say Larry now…"fiance" sounds so fancy! Haha…but anyway – Larry and I went for another of our Saturday drives – it's a weekly tradition now. This time – to Amish country in Adams County.
The destination was of course Miller's Furniture, Bakery and Bulk Goods. It's all in one place and it's about an hour drive (Google Maps said 2 hours but it's so not!).
It's a little compound (not like Big Love) with 3 stores and a lot of families named Miller apparently. We decided to hit up the furniture store first.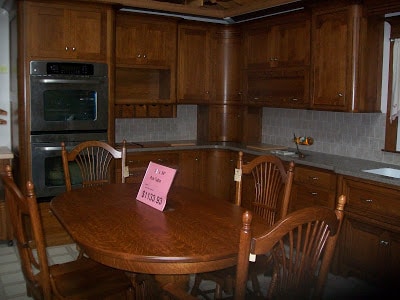 Beautiful cabinetry – had me drooling for sure. Prices are not cheap by any means and the stuff is mostly traditional. We did see quite a few interesting baskets, armoirs, dressers, bookcases, etc…
The other thing they have are these funky clocks – they're made in Japan so no idea why they're in the Amish store – but they're fun. The clock sort of "falls apart" when it chimes and plays music from the Titanic or Christmas carols…stuff like that. I found an example online – they have a ton of them at Millers.
And we did get to see one horse & buggy of course…
Next stop was the bakery – I nearly fainted when we walked in. This place just smells amazing! All the pies – I should have gone that route. But Larry can't eat eggs and I'd feel a little guilty eating a whole pie myself!
We picked up a loaf of bread and an apple pull-apart thing that was egg-free. The bread was good – the apple thing was okay – not enough frosting for me…but it was fine.
The real star of the bakery were these pretzels – $1 each – ONE DOLLAR! OMG they were soooooo good! Normally they are $2 but it was a snowy day so I think they were just wanting to sell as many as possible. Wish we'd bought more – it was DELICIOUS!
Oh my – I forgot the cookies! I got these oatmeal cookies with coconut and white chocolate chips – sort of like an "everything" cookie at Brueggers. Well then they had frosting in the middle of 2 that made it like an Oatmeal Creme Pie. Those were awesome but very very rich. I had one a day for 6 days – delish!
After leaving the bakery, I looked across to the furniture and saw this. I'm not saying I want to buy it – I'm just saying it's going to be the model for our next house. If only it was a mini-version and I could have it outside for the cats!
Lastly we did hit up the Bulk Food store – forgot to take pics. Mainly it's groceries – but they also have soup and dip mixes, cheeses and butter that are all made in the area. I had to get some butter – never had homemade butter – it's really good. The cheeses are also excellent.
Why Should You Go? It's a fun day and the drive is pretty – plus you can come home a totally different route than the way you came and see new sights!