The nice folks over at
Buffalo Wild Wings
recently sent me their new seasoning line which is now available:
at the restaurant to get on your food
at the restaurant for sale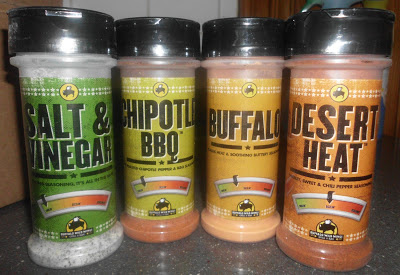 So for Giveaway Day – I'm giving you the chance to win all four seasonings! Post which of the four you'd love to try first and you're in. Tweet or Facebook it and then post here – EXTRA ENTRY!
Be sure to include how I can get in touch with you or I throw out your entry!
The four seasonings are:
Salt & Vinegar: With this seasoning, it's all in the name.
Chipotle BBQ: Fire roasted chipotle pepper & BBQ seasoning.
Buffalo: Classic heat & soothing buttery seasoning.
Desert Heat: Smokey, sweet & chili pepper seasoning.
Let me know which one you want to try and you could win them all!