I was recently contacted by the folks at Naturally Nora All Natural Baking Mixes about their products being introduced to the Cincinnati market. They're being sold at Kroger stores.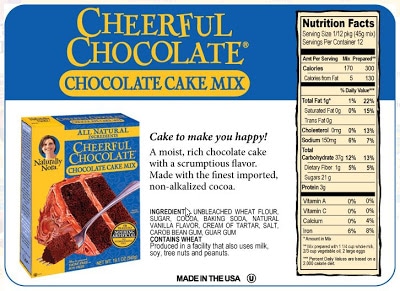 They sent me a nice sample of cake mixes, frosting mixes and brownie mixes. I gave one cake & frosting mix to a couple that had us over for dinner and then decided I would make one of the cakes at home some time!
This week I was down and out with stomach flu doing my best to recover and decided to make him a birthday cake (38 years old!).
As I've mentioned, Larry is allergic to eggs but I saw on Nora's Baking Tips that you could substitute applesauce for eggs in a mix – so this seemed like a great time to give it a try.
I'm going to warn you – please don't make fun of my "decorating". I was home sick and didn't have much to work with – sugar sprinkles leftover from my sister's cupcake days were all I had!
He was actually working at the time – so I sent him a picture to his cell phone. He was really happy – said nobody ever made him a cake before! Awwwwww.
I even made the frosting! I didn't use the Nora mix because that had egg whites. I did a simple buttercream I found on the internet (1 stick butter, 1 bag powdered sugar, vanilla, milk). The frosting was okay – not horrible for a first attempt. The cake was a little warm when I put the icing on so it was separating and sliding a bit. I also don't think I whipped it long enough.
Trust me – I'm not applying for Cake Boss anytime soon!
But the cake was the real star and how did it taste? I made the chocolate and it was really good. Definite good chocolate flavor! Larry's taken some to work every day this week – so it had to be pretty good. Was it much different than Betty Crocker taste-wise? No probably not. But if you like natural ingredients it's a good one to try! I can also say – the applesauce was a good replacement. It might not have been quite as fluffy but the taste was still very chocolate-y.
GIVEAWAY TIME!
I have a great box of goodies from Naturally Nora for one lucky reader. There are 2 brownie mixes, 1 cake mix and 2 frosting mixes! I'm going to give it all to one reader in hopes that they'll pass along a brownie mix to a friend and spread the word.
So check out the Naturally Nora site and let me know what recipe or product sounds the best to you! (I'm all about that Coconut Cake.) If you tweet or post to Facebook and let me know here – you'll get another entry.
Here's a tweet for you to post:
Check out the @naturallynora giveaway from @foodhussy at http://www.thefoodhussy.com!
I'll draw the winner the end of next week!