I headed up to Aladdin's Eatery in West Chester with my good vegetarian friend Jennifer. I had been before and really had a so-so experience. Let's see if this was any better.

We decided to appetizer the whole lunch…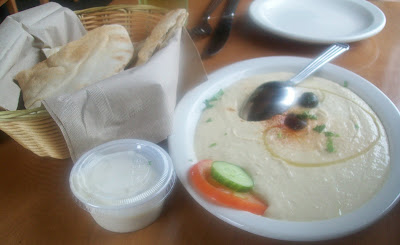 We started out with hummos and she offered us some garlic sauce to go with it. The garlic sauce was really good – the hummos was just okay. Not much flavor and I'm not a fan of their pita bread. It's the kind you would split open to fill with toppings rather than the kind that is meant to be folded (like a gyro). Just personal preference – I find this kind hard and bland.
Jen got the Dawali – Grape leaves stuffed with rice, chick peas, tomato, and parsley, topped with Aladdin's dressing, feta cheese and parsley. She's used to these being served cold but these were hot. They're basically the same as what is typically referred to as dolmades. I tried one and really liked it! Tangy and flavorful…good stuff.
I got the Sfiha – A combination of ground beef, tomatoes, onions, pine nuts and herbs stuffed in a pita pie topped with cheddar cheese and scallions. This picture doesn't tell show much…it's like a magical mystery pocket – what is going to be inside?!
It was basically like a big taco – tasted good. Not very saucy – but flavorful. All in all – probably the best thing I've ordered from Aladdin (in 3 visits).
Why Should You Go? Well if you're a vegetarian or really into lebanese/greek food – it's a must-try. I don't always think it's the best food – but it's not horrible. Also – try and save room for dessert. They have a huge fantastic dessert counter (not lebanese/greek – think giant chocolate cakes). This is a regional chain and from what I remember the desserts all come from Columbus. So, yet again, a mixed review. I would just think someplace like this would have slammin hummos and it just isn't. The food is always "fine" but nothing outstanding. It's a pleasant atmosphere but the service can also be hit or miss.