Lenten season is back and that means fish fries abound!! Besides your local VFWs and Catholic churches – you can also get them at one of my favorite places in town –
Izzy's
!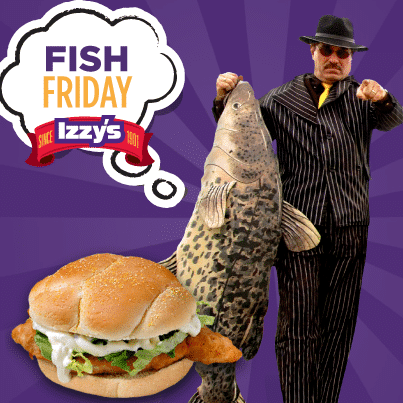 In addition to amazing reubens – they're more than happy to provide lots of options for Lent! One of them is the Cod Lenten Special…
I visited last week and decided to try the Cod Reuben ($9.29) with their yummy battered cod, homemade spicy tartar sauce and then topped with sweet-n-sour cole slaw and melted American cheese on rye toast.
This is a huge sandwich – and while the cod is good – with all the other stuff – you barely know the fish is there! If you're not a huge fan of fish – you should try this one. I love fish and loved this as well.
And – of course – it came with a ginormous potato pancake! My friend Nate came with me and it was his first time – after one bite he said, "Wow these are good!" Um duh! Their potato pancakes are the BEST!!!
Offered throughout the Lenten season, the Cod Lenten Special features a North Atlantic cod filet battered with Izzy's special blend of 17 seasonings and spices, on a Kaiser bun garnished with lettuce and tartar sauce. The sandwich is served with choice of potato pancake or coleslaw for $6.99.
In addition to the Cod Lenten Special, Izzy's offers a variety of other Lent-friendly options on its menu including tuna and egg salad sandwiches, veggie and cod Reubens, and more.
The Cod Lenten Special is available Wednesday, February 10 – Wednesday, March 24, 2016 at all nine Izzy's locations including Downtown – Main Street & Elm Street, Anderson, Ft Wright, Florence, Forest Park, Red Bank, West Chester, and Western Hills. To find the Izzy's nearest you, visit www.izzys.com.