Last week my good friends at Dunkin Donuts invited a bunch of us over to
Dent Schoolhouse
to see all the creepy delights they have to offer! But they're not the only ones going creepy this Halloween!
Dunkin Donuts
has creepified all of their donuts this Halloween – that's almost as creepy as this Dancing Pumpkin Man! And – just so you know – after a Bengals win – you can get a free iced or hot coffee in the Dunkin Donuts app!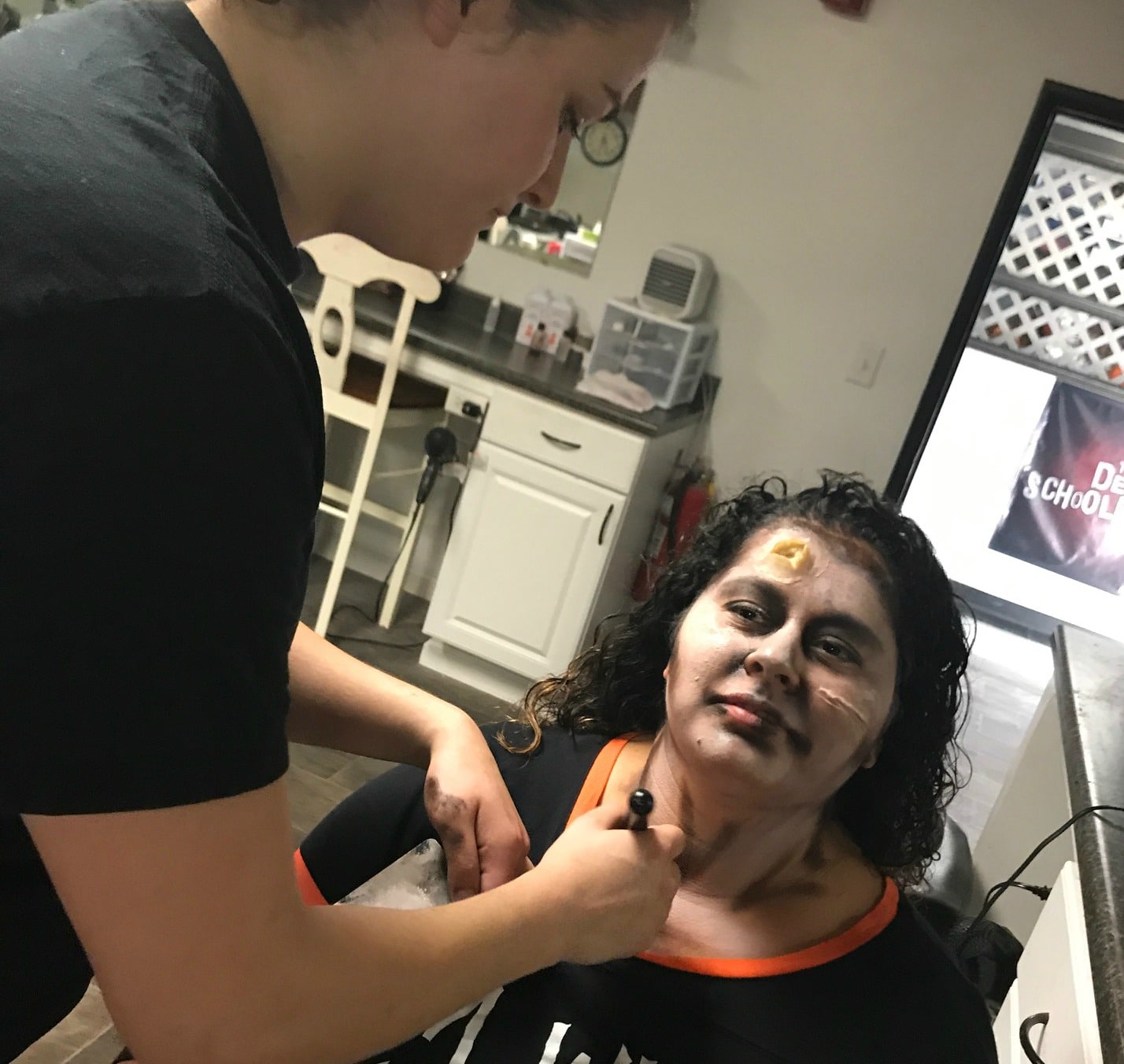 When I got to Dent Schoolhouse – they were making up my friend Lucy to be zombified! They are experts at this because they have 50-60 people working any given night at Dent.
If you're not familiar, Dent Schoolhouse is an old schoolhouse located on the West side and there's a little history about Charlie the Janitor that is a bit scary. Some say it's just a story…and some…well some haven't been heard from in a long long time…
Dent Schoolhouse is pretty cool they have tons of scenes and rooms that you walk through in one of the most elaborate indoor hauntings in the country! They're open Thursday-Sunday until Halloween – then after they're still open in November! This is pretty cool – in November you can come and get a "touch pass" which means that you're okaying the zombies and ghouls to grab you as you go through! I joked that I might just be there every night for all the feels from strangers!
Before our tour we had a little dinner from Colonel De Spices – he made us a great mac & cheese casserole with chicken and veggies. If you haven't been to Colonel De's – they have three locations at Findlay Market, Jungle Jims Eastgate and a store in Ft Thomas. They have the freshest spices and tons of unique rubs for every occasion!
Then we toured the schoolhouse and I met this girl…uh – we didn't really chat too long. They also do ghost tours on Wednesdays in October – and Bud (the owner) told us they have had some creeper things happen at the Schoolhouse – so that might go on my list!
The bloggers each decorated Haunted Houses with Dunkin Donuts delights and these ghouls were chosen as the winners! They got the coolest prize – front of the line passes! Literally they get to park and go in. Pretty bomb! (You can buy that too if you like!)
So – get spooked this Halloween – stop by Colonel De's for some spicy goodness for your grown up treats and then Dunkin for some sweets and then get the pants scared off you at Dent Schoolhouse! Sounds like a great Halloween to me!
Enter to win a pair of tickets to Dent Schoolhouse below!