Sorry for the hiatus – I went on vacation to The Pink House on the British Virgin Island's Jost Van Dyke.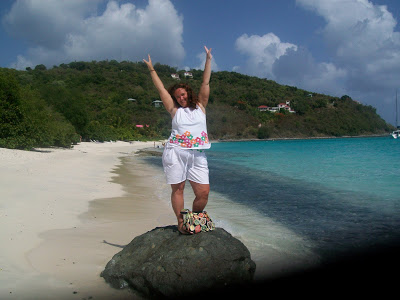 As you can see, I had a pretty good time.
I will be having a pictorial and review of the island food in the days to come…but for now…it's back to the 'Nati.
Before vacation we went to Akash India for a coworkers birthday – Akash is in the same Indian restaurant family as Baba and Ambar.
They have a lunch buffet with the ever delightful rice and a wide variety of meat entrees. They usually have a lamb, chicken and a beef as well as some saag dish.
They also have the vegetable pakora (battered & fried vegetables), onion rings, mango pudding, rice pudding and salad stuff.
Here's a close up of the mango pudding. Supposed to be pretty sweet…I haven't tried it yet.
We had a few first-timers so we tried to get a wide array of dishes so they could try everything. The dishes are fairly bland so it was pretty easy for them to try them. The guys were a little scared of spicy.
I on the other hand have learned that my favorite dish is Mushroom Mater so rather than get the buffet with stuff I don't like – I just get that! It is my favorite – it's got a great tomato cream sauce and lots of mushrooms and peas! MMM MMM GOOD!
So how authentic is Akash? Hell if I know…but for a buffet – it's ok. Unfortunately they don't often have the mushroom dish on the buffet so it's not my favorite. The naan and the vegetable pakora are great though.