While staying at
Lost Lodge in Somerset, KY
– we were hungry (obviously!) and headed to Guthrie's Riverhouse just a few minutes away.
We decided just to sit at the bar rather than wait for a table – we didn't actually see the river view – but the bar was pleasant.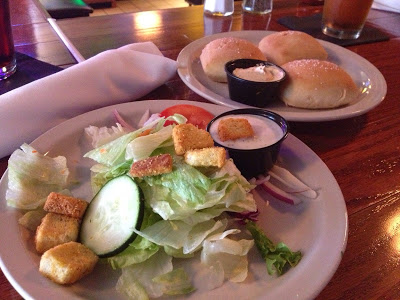 I got a salad with my entree – it was fine – nothing special. The rolls were good – very warm and the butter was soft!!!
Crab Stuffed Tilapia
Gluten Free
Mild tilapia, topped with crab meat, served over rice pilaf and grilled asparagus, finished with a lemon butter sauce. 14.99
I liked this fish quite a bit. The tilapia was light and flaky and the crab was sweet. The sauce was rich but not too heavy. The sauce also moistened the rice pilaf as well. Definitely a good choice!
Deluxe Cheeseburger
Lettuce, tomato, onion, pickles, american cheese 8.99
Larry went for a nice simple burger and he was happy with it. The other thing to note – Guthrie's has the
Bourbon Barrel Ale
on tap! I'm not much of a fan of it because it's really strong – BUT on tap it is much smoother! Larry likes it in bottles as well ($12/4 pack!) but he was drooling over it on tap. Around here – you probably can't find it on tap – maybe at
Yard House
?
After dinner, I decided to try their Creme Brulee – they had a lot of desserts to choose from for less than $3 each. This was the one thing I didn't care for – which is a bummer since it's one of my favorite desserts. The sugar was way too thick on top and couldn't even break it with a spoon.
Why Should You Go? If you're in Somerset – it's probably "the nice restaurant" in town – there aren't a lot of options other than fast food in the area. Dinner was good and the service at the bar was excellent! And don't forget to check out Cumberland Falls and Lost Lodge while you're there!