Okay – I think I was Greek in a previous life – cuz I love me some gyros. No idea why – but I'm an addict. So when someone tells me there's a gyro place I gotta try – I'M THERE IN A HOT MINUTE!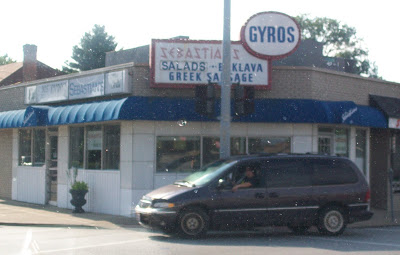 Some friends told me that Sebastian's was the place I had to try. It's on the west side – so I was a little wary (mostly because I always get lost getting home from Glenway) but wow – so glad I went for it!
This is Alex – he owns the joint. His daughter was on the register…I love the big spits of meat! That thing in his hand is like an electric razor. He zips it down the spit as it's turning and into the pan – ready for my sammich!
I got the open gyro dinner ($8.75) that comes with the salad, pita, dressing & tsatsiki. The meat was delicious – probably the most tender I've had. The pita was crispy on the outside from being on the grill a bit. The salad was simple but tasty. The tsatsiki was my only 🙁 Greek Isles in West Chester has that hands down – it's very thick and flavorful. This was thin and watery.
Alex also came around with a pan of extra meat and asked if we'd like a few more slices – um hells yeah! I never turn that down. They were a little crispy and that was even better!

Larry got the gyro ($5) and fries ($1.55). He definitely liked the gyro – didn't think he'd eat it all but he managed. The fries were fine…but It's Greek to Me has this lemon seasoning they put on their fries that I liked a little better. (I told you – I've been to all the Greek places!)
I couldn't turn down a slice of baklava ($1.50). I'm not usually the biggest fan but I don't get to the west side too often – so I figured I should make the most of it.
Thank God I did! This was the best piece of baklava I've ever had. I did take it home since I was stuffed after the gyro dinner. It was so delicious! Light, fluffy, sweet, sticky – omg – wish I'd bought a few more pieces to take home! That will definitely take me back!

Also – threw this picture in because the place is small and check out that line! It's a little like the Soup Nazi when you order. I actually like it because you order and they don't take the next order until they hand you your food. Makes me feel like I'm the top priority – which I like.
They do a mean carry out business too! Because it's so small – I'd say 2/3 of the folks in line were carry out.
Why Should You Go? Well – if you're on the west side – you've probably already been. If you're not – then go. The gyros are amazing – as is the baklava!