My baby sister turned 21 last weekend and I took her and a few friends out to lunch. We were supposed to go to Seasons in downtown Springfield. Unfortunately (really really unfortunately) they are not open for lunch on Saturdays – BOOOO! I've been there once before and it's amazing. Instead we went around the corner to Mela Urban Bistro. It's in the Courtyard Marriott…I should have known.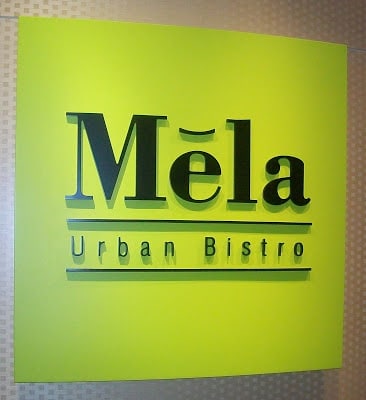 Pretty logo…good start.
Here's Edith making her sad face…if only we knew what was coming to us…Happy Birthday Kid!
angus burger – 8oz burger served with a Caribbean jerk sauce, fresh avocado slices and crisp apple wood smoked bacon on a toasted onion roll served with cajun fries —$10
well the burger is a pre-made patty – yuck. The avocado was old and just not good. The cajun fries were just regular old fries slathered in some crappy seasoning. Not good.
smoked turkey melt panini – sliced smoked turkey topped with a white cheese spinach and artichoke spread —$10
The salad on the side was a bit odd – fruit and veggies – sis didn't really try it. other girl did – didn't compliment it. The chips were okay and the sandwich was okay. This was the best of the bunch although I'm sure betting that turkey was just deli meat.
parmesan & herb crusted salmon – salmon filet pan seared and crusted with parmesan and fresh herbs served atop grilled asparagus draped with bernaise sauce —$13
After the full plates covered in fries, chips and veggies this salmon looked really damn lonely. The salmon was okay. The asparagus was horrible. Dry, wilted, flavorless – just bad!
And now for the offending item of the day:
falafel stuffed pita – pita stuffed with falafel, house made hummus, lettuce, tomato and
dressed with a tahini sauce—$8
This was HORRID. Like there are no words to express how awful this was. Leslie nibbled away at the pita and lettuce mentioning something of an odd flavor but no real complaints. I asked to taste it so I could give an opinion on the blog. What happened next…just wow.
I didn't video my reaction to the taste – but decided to make my sister try it. And here is her reaction:
Yes it was THAT bad.
Why? Well it was cold – I just have never had COLD falafel. It's like a vegetarian meatball – I don't want to eat a cold meatball. Then it had this lemon-flavored smear – not sure if that was the hummus or tahini – but it was gross. I really couldn't get any further. One bite – two chews – spit. It tasted like dirt covered in lemon pledge.
Then the fun began – we made Karen try it…then Edith. The video was great…it was the gift that kept on giving! It is also a great trick for friends – Karen said her boyfriend will eat ANYTHING – so I hope she takes him to Mela and makes him try the falafel pita.
Since the meal was a bust we thought we had better get dessert. This was the snickers pie – $5.
Completely straight out of a box with Hershey's syrup squirted on top. Looks much better than it tastes – neither girl was impressed.
Edith got birthday key lime tart – $5. They did bring it with a candle. It was pretty good – I tried a little bite – light and fluffy. Edith was hoping it was neon green…she'd never had key lime anything before.
Then the final disappointment – cookie dough gelato. This would make the folks over at Dojo vomit. It was runny and flavorless – then there was a hunk of cookie dough in the middle of the liquid and topped off with non-ripe strawberries. Delightful!
I left this note (click on it and it enlarges) on the back of the receipt. The service was fine – and they brought more Mountain Dews than a busload of high school kids would need.
I know it's mean to leave a note like that – but really – it was horrid. Like I was SHOCKED that anybody would ever ever serve that! I can't fathom how anybody could eat it! I like falafel (Myra's in Clifton) but this was atrocious.
So to the folks at Seasons – please oh please open up on Saturdays for lunch. Springfield is short on options for restaurants and I can't ever go back to Me'la.