I'm not a "happy hour" kind of girl – I don't really drink and I don't much like ginormous crowds of YPs. I think I'm getting old…and I'm fine with that.
But by request – I went out to BlackFinn a couple weeks back. It's very loud and there are a lot of people. If you like that kind of thing – it's great. I just don't…but I made the best of it.
The front is a quieter more "restaurant" atmosphere, the middle is a bar with high-top tables and booths but it's really loud and very much about the drinking and mingling, then the back is all bar and even louder.
Again – this all sounds negative cuz I really don't much care for this – but hey – if I gotta be here – I might as well get a bite to eat and write about it.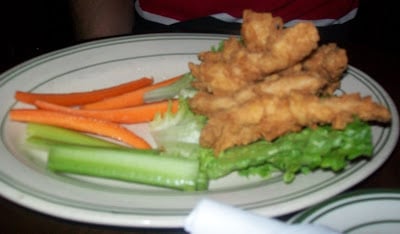 I seemed to remember the chicken fingers ($8.99) were good and I was right. They are probably the best chicken fingers in the city. The breading is really tasty and they're juicy. If you're there – get these – for sure!
I got the slider trio sampler – which on their website looks like this:
In reality, it looks like this:
One each of the Classic Beef, Pulled Pork and Southern Fried Chicken Sliders – 6.99
Okay – seriously – the buns are completely different and there was no lettuce on that plate! The burger was actually really good – very juicy. The other two – meh.
I just cracked up when I saw the pic on the website and then my pic – wow – not even close!
Why Should You Go? To drink.