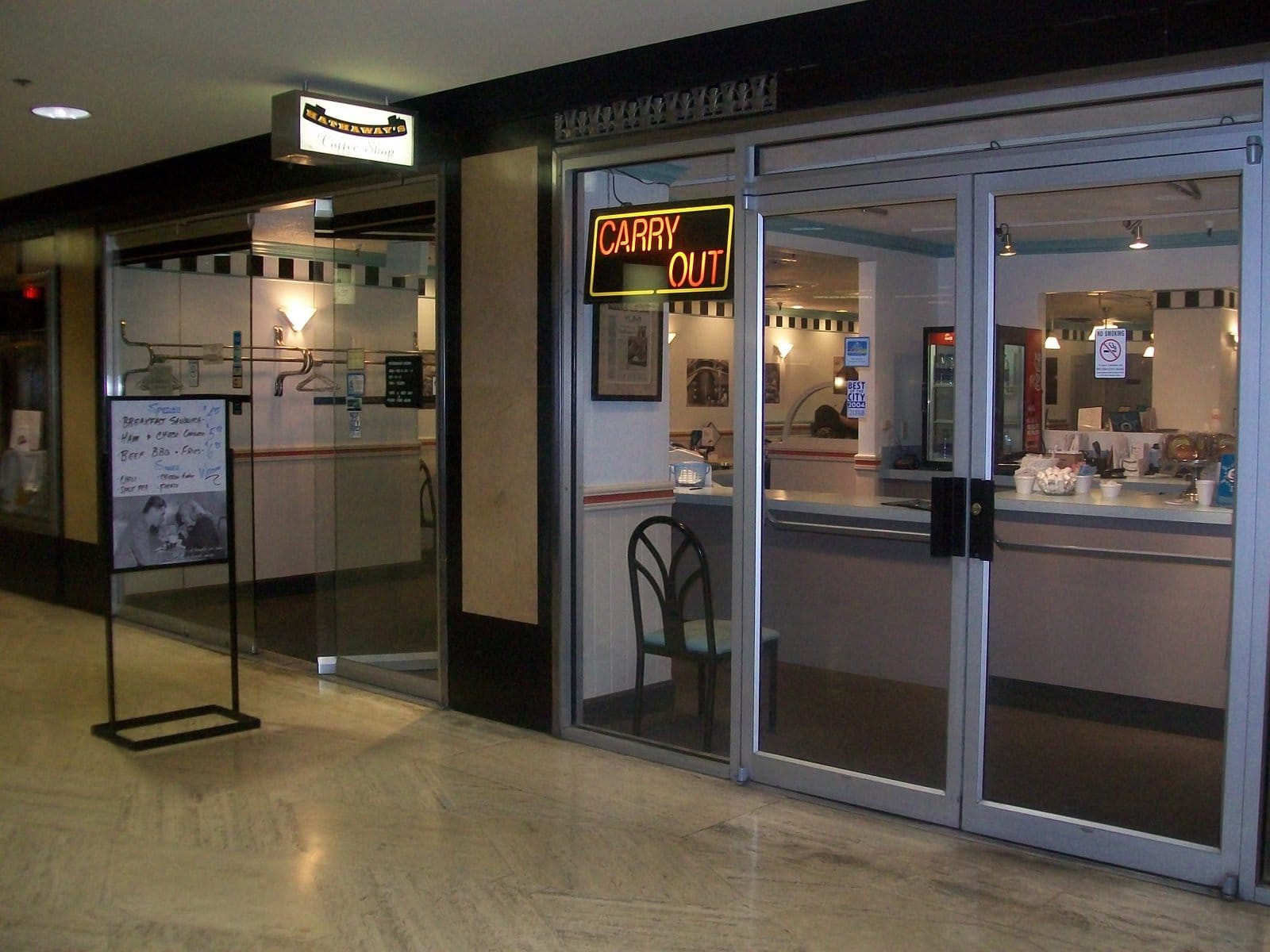 I'm a sucker for a kitschy diner…so when I was on my daily walks with a coworker – I ran across Hathaway's! It's in Carew Tower next to Radio Shack…on the street level.
Inside – it's got the diner counters and that's the best! It's like the Echo in Hyde Park…or like you just walked into 1950! The aqua color is carried throughout the entire diner…that is definitely fun. The waitstaff is also right out of 1950! The women all have the dresses – it's like walking into Mel's Diner!
But the food – how was it? Well my friend Denise got a club sandwich as recommended by the staff. She asked for wheat toast – that's not. She seemed to like it fine – but didn't quite finish it.
I got the grilled chicken with mushroom, peppers, onions, tomato and lettuce. It came with a side of cole slaw and fries. The slaw was very tasty – the sandwich was good as well. Chicken juicy, etc… I asked for a side of BBQ sauce as opposed to mayo – Boot Camp Trainer would be proud!
So here's the deal – the food was fine. The service was decent. The restaurant was extremely clean. There just wasn't any wow factor…and I don't know that I expect that from a diner. BUT I would hope for cheaper prices. I came out of there with a soda and that chicken sandwich/fries and it was $10 plus tip.
If you're downtown and you want a quick bite at a sit-down stop – then Hathaway's is a great choice.
Hathaway's
306 Vine St.
Cincinnati, OH 45202
6:30 a.m.-4 p.m Monday-Friday; 8 a.m -3 p.m. Saturday.
Phone: 513-621-1332