Well Cincinnati – I may be late to the train station on this one since 7 other bloggers have reviewed it – but hey – better late than never!
Two words for you – ELI'S BBQ.
Really – that's all you need to know – but if you need more convincing – read on…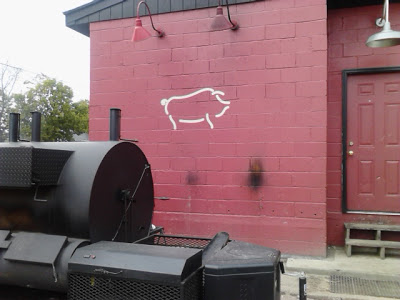 From what I know – Eli's was in Findlay (still is?) but now have a bricks & mortar location on Riverside Dr in Cincinnati. Keep your eyes peeled for the pig outline!
There's a small sign and parking in the back. There's a huge open area where you can BYOB and BYOD (bring your own dog)! My coworker said, "I can bring my dogs…and drink my own beer…AND eat BBQ!!!!" – I should note he was salivating by the end of that.
Once inside you order at the counter – there's a big ol' menu on the wall – and you can do individual entrees ($5) or you can do a plate ($8) with entree & 2 sides. I couldn't decide between ribs and hot dogs (odd choice – more on that) – so the blonde there convinced me to do both! Well sure!
I went for ribs ($5 for 3 bones) that came with a side of cole slaw. The slaw was really good – not so mayonnaise heavy – very light textured creaminess and good flavor. Me gusta!
The ribs (as you can see) are dry and the rub on them has a lot of little chunks/pieces and it's also sweet – you could taste brown sugar chunks. I really enjoyed the dry style ribs rather than those that are slathered in sauce. The meat was very tender and there was a bit of the rub in every bite.
Honestly – I didn't love as much as Just Q'in – but this was a close 2nd for me. Those were a bit more "fall-off-the-bone".
Here's where they got me. As I said I couldn't decide between ribs and dogs. I was told by another coworker that their dogs are not to be missed. Now why would you order hot dogs at a BBQ place. BECAUSE THE LORD SAID SO!
Seriously – this was an amazing dog. They start with my favorite brand (Nathan's) and then do amazing things to them that include smoking and frying. Then throw some cole slaw, crispins (crispy chunks of bbq meat) and bbq sauce on top and then YOU DEVOUR IT!
Because the girl reco'd both – I went for 3 bones and 1 dog – still too much food – and I still couldn't stop eating. A normal "just dog" order is 2 dogs – but you can get 1 dog alone if you like. Eating two might push my stomach into another realm – but one and two sides – definitely worth it.
Speaking of sides – I got the mac & cheese (because I'm obsessed with that and think it should be a food group of it's own). It did not disappoint. Most times I actually don't like "homemade" mac & cheese – it's usually mushy and gloppy. This was neither and yet it was far more than "throw velveeta in the noodles". Good stuff here.
Here's a shot of the pulled pork sandwich, cornbread and cheesy grits. I didn't try any of these – or really even ask those that did. I was too busy salivating and devouring my food.
I did just ask a coworker for his thoughts. He loved the sandwich – said it was delicious and they did not skimp on the pork. He also said the grits were super cheesy with a little kick.
Why Should You Go?
Because it's that awesome. Seriously – I've been thinking of it since last week – and I'm going today. So Eli's – save me a seat – I'll see you around noon! FYI – it's cash only.