There are a few things I miss about Iowa…Cheese Rites from Maid Rite, Potato Oles from Taco Johns, Queso Dip from Carlos O'Kellys and yes Breakfast at Hardees. I realize all of these will cause heart attacks – why do you think I moved?
Alas, I was recently hungry in Kentucky and ran across a Hardees and had to stop! Unfortunately we weren't there at breakfast time so I settled for lunch…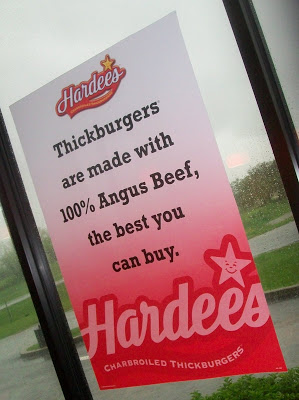 Ahhhh familiarity.
They had quite a different menu than before – these are my cheesy bacon fries and they were pretty damned good. Not much different than I'd get at many "bar food" type restaurants.
They have these new Grilled Cheese Bacon Thickburgers – and I had to get one. I admire Hardees for always trying new things and having more than just a plain old burger. Their hot ham & cheese has always been a favorite. This thing was big and cheesy and for fast food – damn yummy.

They also have these new Berry Berry shakes and that was again DELICIOUS. Really it was my favorite part – Larry ordered it but then I stole it. He didn't even get a drink. That's how I roll.
I also must give some Kudos to this location – it was immaculate and had an incredibly friendly staff.
Why Should You Go? Well first – you gotta find one. Then – go cuz it's different than Wendys and far better than McDonalds (don't get me wrong – I eat that too). Their biscuits for breakfast though are really great – Loaded Omelet – awesome. Just go for a jog afterwards…