As I've mentioned – it's going to be giveaway central for a while – I have so many goodies for y'all!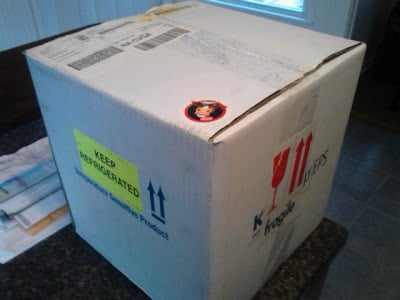 It's really fun coming home to big mystery boxes at least once a week- and knowing that I get to pass some of that fun onto all of you!
I saw the cow sticker and thought I knew what it was…
And I was right! Six containers of HeluvaGood! dip!!! They sent me their new Black Bean Queso flavor…which I hadn't yet tried.
My favorite of theirs is the Buffalo Wing dip – I'm quite addicted! It's such a strong flavor and spicy but not too much so. It's good stuff – but I was excited to try this new flavor since I love mexican anything!
Let me tell you – I took 4 containers to work – and the first time one was opened – it was gone in less than five minutes! One girl even said, "If I'd known it was black bean – I probably wouldn't have tried it – but that stuff is awesome!!!!" EVERYBODY loved this stuff!!
So if you at all like dip – you should definitely try this one. And hey, if you're having a party – buy the dip – put it in a fancy bowl and I GUARANTEE you'll have a ton of people asking YOU for the recipe!!!!



Because of their awesomeness, Heluva Good! is giving away a blender, margarita glasses and product to one of you!


I'm using a new giveaway commenting tool – so hopefully it works pretty well – I see it on a lot of blog sites. The fun thing is there are a ton of ways for you to enter now and they're super-easy!