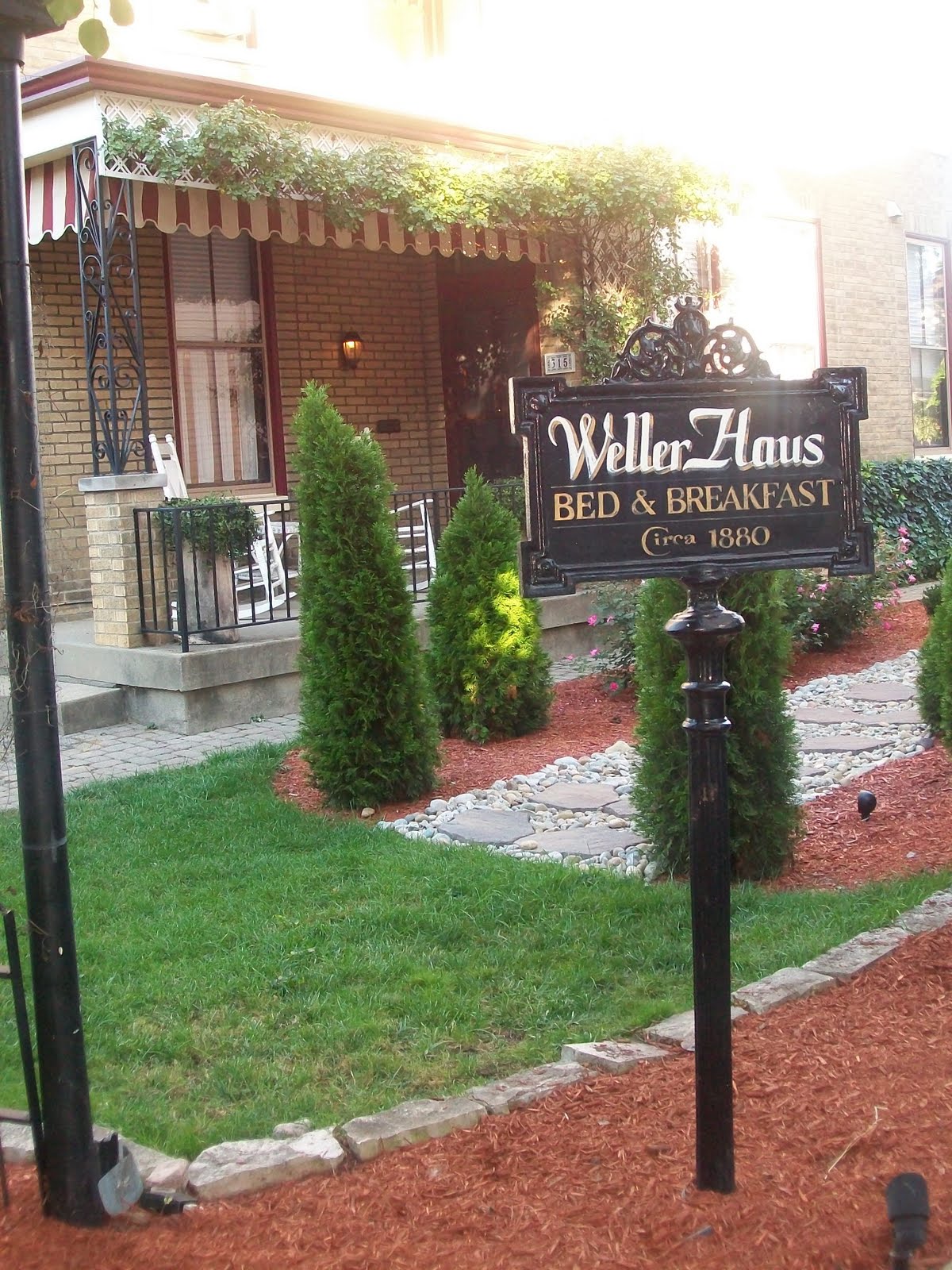 There are lots of pics in this blog – so commentary will be short to get through them. It's very pretty – just up a couple blocks from Main St in Bellevue. Parking is on the street and there are a few rooms to choose from. Ours (Margaret's Porch) is shown here – you can see the porch with the white rocking chairs.
The bedroom was really pretty – but not too girly. I mean – it's a B&B so it's going to be girly but it wasn't over-the-top-grama!
I really wanted someplace with a jacuzzi tub and this had it. It was really nice and cozy – loved it all!
Fireplace and robes all nice touches. There are also pennies all over the place – I didn't quite know the back-story but it seems people leave pennies around the room – some hiding them strategically. We hid ours in a pretty good spot – we'll have to see if they're still there next year!

Here's the porch of Margaret's Porch – we opened some of cards out here and enjoyed the morning!

I wanted to take some pics of the grounds – it's very pretty. There are all sorts of little spots to sit and I think you could definitely have 2-3 couples/groups out there and still feel like you had your own private space.
Love me some knockout roses…
There are a few "water features" with seating near each…Lots of koi in this one.
Big deck with seating for four…

A few more pics of the grounds – it was so pretty and even blooming in mid-September! Thoughtful planting.
But now – BREAKFAST!
In our room, we had a menu with breakfast selections. You choose an entree and a time – so it's flexible!

First up was the fruit and juice… You get a knock at the door and then open it up and voila – breakfast for 2! Because of Larry's egg allergy one of the fruit dishes had a pastry with it and one did not. These were delicious – Larry couldn't get over how tasty the fruit was. It was also a very large portion – you won't go leave hungry!
We noted Larry's allergy and were hoping for the best in regards to the entree. I had checked ahead of time and they said they were fine – but all the entrees were egg, egg and oh yeah – egg! We just said – he'll take anything hot and left it there.
They served up this gigantic sausage burrito! Filled with sausage, peppers and cheese – then smothered with more cheese and salsa. It was delicious! I had a couple bites and was almost jealous…
I say almost because I ordered blueberry pancakes and sausage. Wow – loved it! There are 4 hot cakes there! I've made blueberry pancakes twice at home since having these because they were sooo good. The sausage was like kielbasa – so that was nice – I love that stuff. These were so delicious! I did my best to join the clean plate club – but with the fruit first – it was not happening. I should have given Larry my fruit to save more room!
All in all – the food was decadent! The room was wonderful! The staff was basically non-existant – which was fine by us! I'm not one to want a chatty B&B – I want to go to relax. This room specifically had breakfast served to us so we could have it privately. They do have other rooms where you can eat "communally" but we weren't really interested in that.
This was the perfect wedding night and it's great because now we have a place to visit for years to come! Don't just take my word for it – they have great TripAdvisor ratings as well!