While I love love love La Mexicana – it's a bit too authentic for my better half. Actually I haven't taken him – but I know him pretty well and the goat on the menu – well it might scare him away.
So when I want Mexican – we head to Rio Grande in Newport – it's near the Remke and all the other stuff right off 471.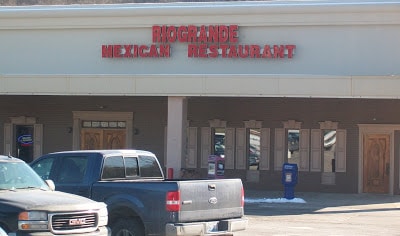 It's an unassuming strip mall location but boy does it deliver. The parking lot is ALWAYS full!
You're quickly greeted with chips & salsa – fresh and delicious. The chips were warm this day and I scarfed a ton of them.
I don't even need a menu – I always get the same thing. I get the Fajita Taco Salad…it's like a big ass taco. Seriously – click the picture – it's giant! Yeah yeah yeah – all that cheese and sour cream is bad for me – I know – but once every couple months – I NEED IT! The shell is crispy and delicious as well. I don't know why but the taco shell shape is so much better than the bowl shape. No real explanation – it just is!
I went for Fajita Chicken – typically I'm a steak girl but just felt like chicken this day. It did not disappoint. And yeah – it's too much food – but I ate it all. This is a meal for a no-breakfast day.
Larry got the same thing but with ground beef – he loved it. And the food came out in about 5 minutes – and since it's a lunch special – we got out of there with 2 sodas for like $15 or something ridiculous like that.
Why Should You Go: Duh – cuz it's awesome.