While my mom was in town for the holiday she wanted Chinese food. Now she's from Muscatine, IA – so it's not like she has high expectations – but I just couldn't take her to a greasy Chinese buffet. Plus – I've been wanting to go to the new location of Oriental Wok for quite a while and this seemed like the perfect opportunity!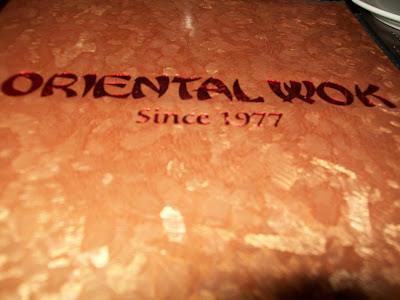 The main location is off Buttermilk Pike in NKY but in 2009 they opened in the first floor of the Regency Building at Dana & Madison in Hyde Park. We couldn't quite figure out if it was a hotel or condos – but the website tells us – condos it is! (That was my guess.)
Inside it's a little fancier than the Buttermilk Pike location – very ethnic and pretty.
First off we tried egg rolls & spring rolls – we were starving! The spring rolls were great – very light – a little oily but that's to be expected. The mustard sauce was very bitter but the sweet & sour wasn't too sweet and thick – so I liked it!
Oh great – now I have to remember what we got! Pretty sure I got Szechuan Chicken ($14) – it was REALLY spicy. I kept mixing rice and soy sauce in hoping to tame it with not a lot of success. It's from the spicy menu so duh. Lots of veggies and lots of chicken – so other than being a little too spicy for me – it was good. The sauce was more spicy than flavorful – I find that with a lot of Chinese dishes but not typically at OW. So – all in all – it was good but wouldn't reorder.
Larry got the Grilled Tilapia ($16) – he wasn't in the mood for Salmon after having the night before at McCormick & Schmicks. It seems a litte more fried than grilled but was cooked very well. It's a fairly light fish but it held together well.
Sis got Sweet & Sour Chicken ($13) – she enjoyed it although thought there was a little too much of the sauce – it was like a swimming pool in her bowl. She's also a light sauce person – so if you like a lot of sauce – it's probably about right for you. I tasted a bite of the chicken and it was juicy.
Mom, after some coaching, got Sesame Chicken ($14). I sorta forced her to branch out – she enjoyed it very much. I have to say – after trying all the dishes – it was my favorite as well. Plus – there were leftovers for the next day! It was sweet and flavorful and lots of tender juicy chicken bites!
Oh yeah – and plenty of steamed rice of course!
Why Should You Go? Well if you're looking for authentic Chinese that isn't coming out of a buffet – it's one of the few places you can go. We have a plethora of Thai & Japanese – but not that many just regular old Chinese.

Plus – if you're celebrating – it's great! They brought out the gong and sang Happy Birthday in Chinese to a couple tables of people. I've also had their flaming drink and it's good too! So it's a fun place.

Lastly – the owners are wonderful. They are warm and welcoming and I'm pretty sure the daughter is managing this location. Very very friendly folks…

Only down side? Well – it's a little pricey – and our service was a bit slow on refills, etc…