My baby sister is heading into her senior year of college and moved into an apartment this year. So what does that mean? I trip to Ikea of course!
After shopping – we got hungry and I'd always wanted to try the restaurant. Plus I had three girls to feed – might as well try and get a bargain for their dinner.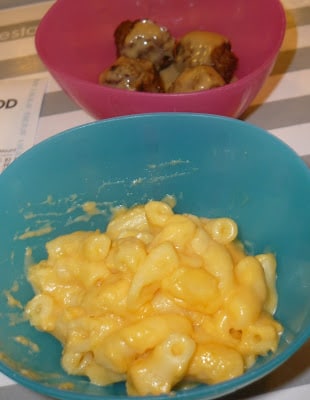 I was planning on eating again later – so I went to the kids menu. From the 99 cent menu, I chose macaroni & cheese and the swedish meatballs (their specialty). I forgot to take the pic – so my m&c was about half gone… They were both tasty. I'd like to try the meatballs with the pasta. The mac & cheese was very cheesy but as is often the case – the noodles were a little mushy.
My sister got the chicken caesar salad – it was pre-made. She was pretty happy with it. I honestly have no idea what the soup was or how it tasted so I can't weigh in on that.
Now I must address the chocolate overload cake – this is $2.99 of heaven. Look at that cake – click on the link and look at it. Looks heavy doesn't it? It's not! It's light and delicious. This was seriously the best piece of chocolate cake I have had in a long long time. So if you're at Ikea – get this cake! It does have mousse…that's why it's light. Highlight of the night for sure.
One of the girls got chicken & pasta alfredo, mac & cheese and a salad. She's a pasta fan – can you tell? She was pleased with all of her choices.
The salad bar is pretty decent too – there are quite a few vegetables – I was pleasantly surprised!
(Sorry that the pictures are vertical – it's uploading funky.)
Lastly – another chicken caesar salad and some sort of chocolate dessert. I have no recollection of what it was – but it was damn good!
All in all the total for the four of us was $31. I think that's a good deal for four people – well 3.5 since I only got a little bit.
If you're at Ikea and you're hungry – stop upstairs for some munchies. There's quite a bit of variety and something for anyone. It's definitely not the school cafeteria!
There's also a bistro on your way out – and let me tell you – they have a tray of 6 Cinnamon Rolls for $4. Don't leave the store without grabbing a tray! When you're in the checkout – send someone over to grab a tray. They are the best!
Happy Shopping!