The title of this blog was inspired by Marvin from Big Brother 5. At one point during the show, one of the cocky guy contestants said people always mistook him for Brad Pitt. In a diary room moment, Marvin exclaimed, "Brad Pitt????? More like a arm pit!" That stuck with me and sums up my feelings of this trip to IHOP.
So why did we go? Well, we're trying to be more budget-conscious as of late and I decided to clip some coupons for a change. There was a coupon for Free Breakfast/Dinner with purchase of one entree for IHOP – so why not? That's about $7 free – so let's go!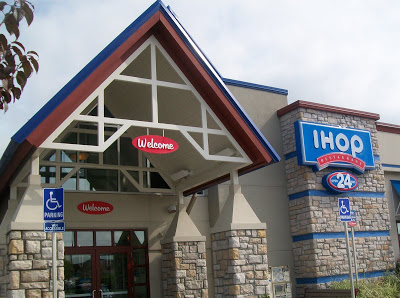 We hit the Ridge location in Oakley (near Target). I guess that was mistake #1. (Note the 5 votes on this locations
Urban Spoon
rating – 0% like it.)
Here sits a nice pot of fresh coffee on our table – right? No – it's not fresh. And when we decided – because it wasn't fresh – we didn't want coffee – they left it there – the whole meal.
Also – it took at least 15 minutes for our server to come and take our drink order. (We contemplated leaving twice.) Then another 10 minutes to take our meal order. Then another 5 minutes to get our drinks on the table. Don't even ask about refills.
I ordered the Pancake Combo which is 2 pancakes, 2 eggs, hash browns and 2 sausage or 2 bacon. I got scrambled, bacon and cheese on the hashbrowns. And let me say – the food tasted as pitiful as it looks. The hashbrowns were undercooked, the bacon was overcooked and the eggs were cold.

For pancakes you can choose from: Original, Strawberry, Strawberry Banana, NY Cheesecake, Double Blueberry, Cinnamon Apple, Chocolate Chip or Harvest Grain 'n Nut. All of these come with crap on top and then whipped cream. I guess I'm a purist – I like mine with butter & syrup – that's it. Anybody?
I got double blueberry and they were good – definitely the best thing about the meal. They were a little cold, they came 5 minutes after the platter of crap shown above and my table had 2 jars of the Butter Pecan syrup and none of the Old Fashioned. (wtf eats butter pecan syrup?)
This is the Double BLT – it had a lot of bacon and the fries were good – not really hot – but tasty.
But you see – he ordered onion rings – not fries. So 20 minutes later, the onion rings came. They were fine – he liked them but I thought they tasted like old grease.
Our server didn't write down the order and then proceeded to come out 3X and ask us questions. What kind of toast for his blt, I wanted blueberry – right? and ironically – she came back and asked if he wanted fries or onion rings – and yet – it was still wrong.
You don't even want to know how long it took for the check to come…we just left cash and got out at that point. Who cares about an extra buck when the football game is coming on?!
I understand a lot of people hate chains – but to me – it's inevitable that I'm going to go to one every now and again. This was just a really crappy experience. If we decide to try and IHOP again – it won't be the one on Ridge!