On our recent lunch outing Larry and I headed over to MainStrasse to the Cock & Bull Pub. They've also recently opened one in Glendale…I've been to both before but it's been a while.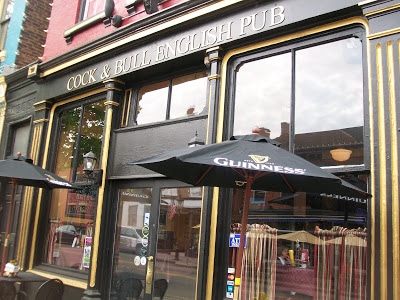 In Covington, it's on the main corner with Dee Felice, Chez Nora and Cosmos…they have the most outdoor seating which we definitely took advantage of.
Across the street in the median is a great fountain and a bunch of outdoor tables…
We decided to try eating healthy this day – I had the Buffalo Chicken Salad ($7.99) but with BBQ instead. It was fine… The chicken was a little dry and there's really nothing for toppings other than cheese and tomatoes. Boring to say the least.
Larry went for the Blackened Chicken Caesar (no caesar – $8.49). Again – it was fine.
I've been other times and it's always fine – but haven't found much exciting. The fish & chips are their specialty but they're breaded not battered and I'm not a fan of that. The Reuben I got last week on a coworker going-away lunch was okay – but again – bland. The nachos are pretty good – covered in chili…
Why Should You Go? It's fine – I'd honestly rather head down to Zola's for an awesome burger but if you're there and you want bar food and a nice atmosphere – go on in.