A few weeks ago I put a poll on my blog about where I should go next. The readership of The Food Hussy spoke and I ate! So off to Jean Robert's Table for date night it was!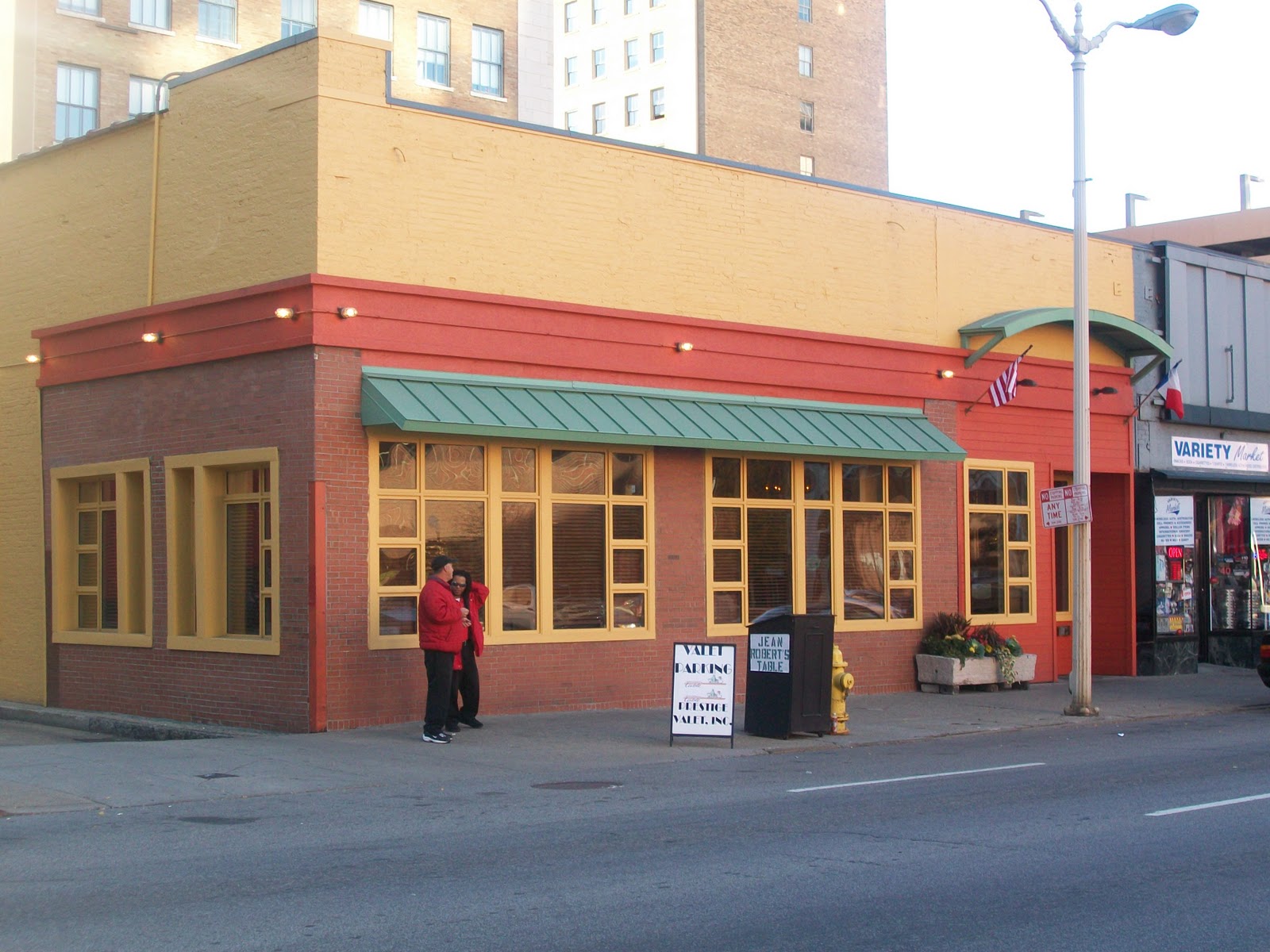 From the outside – you'd actually never know this was it. The only sign is a hand made one on the side of the Valet booth. I'm guessing the sign is coming and it's all a bit secretive for now. There's ample parking around it – which is something I value when dining downtown.
We started out with a drink since they hadn't started seating yet. Larry's a Bud Light kind of guy – so we asked for something fairly light. We inquired about a possible "cider beer" which they didn't have but they suggested this Belgian beer to us and said it was very effervescent – almost like champagne. It was really good! I'm not a fan of beer that you chew…and this wasn't that at all. It wasn't as light as a Bud Light but wasn't heavy. It had good flavor and lots of fizz. We both liked it a lot! ($8/bottle – there was a little sticker shock)
The artwork is nice – they are all paintings of individuals – some more realistic than others. It sure is hard to make a painting of a person look like a person. I keep thinking of that awful Polar Express movie – those were some creepy people!
The ambiance was quiet and cozy – even though it was fairly bright and the tables are close together. It's a romantic setting and just feels fancy but not too fancy. Although – Larry did put his napkin on his lap (he doesn't do that often).
We started off the night with fresh bread and butter. The bread was warm and so delicious. Very light and soft on the inside/crisp on the outside. The butter was perfect – solid but soft enough to spread. (I'm a stickler on butter temperature.)
SMOKED SALMON
with Warm Potatoes and Goat Cheese with Poached Egg 14.5
We went with this (sans egg) for the appetizer. I wanted the lobster but there was no way to avoid the egg on that one – so we went this way. It was really tasty – kind of my favorite part of the night. The frise wasn't bitter and the salmon was really tasty (not too fishy). The filling was like potato salad – really fancy potato salad.
ARCTIC CHAR
with pear and mushroom crust, brussel sprouts & purple potatoes served with a blue cheese & red wine cream sauce $24
This was a special on Saturday evening and I had char at Gordon Ramsey's The London in NYC and loved it. It's much like salmon. The fish was cooked perfectly – slightly on the rare side but not too much at all. The potatoes were delicious! The sprouts were maybe a touch underdone and didn't have much flavor. The crust – well it was ok. The pear/cream sauces were really good and added a lot to the dish although I didn't taste any blue cheese. I hate blue cheese – so I'm sensitive to it. All in all – good but not that memorable or wowing.
HALIBUT
with Basil, Compote of Tomatoes, Zucchini Flower, Gallete of Potatoes & Squash and Oyster Mushrooms 26
Larry went for this one – and again it was all good. I stole a couple of bites – the chips were crisp and lightly salted. The tomato compote was a great contrast to the rich creamy sauce. The mushrooms were a bit tough but I'm guessing that's just the way oyster mushrooms are. Again – good – but not that memorable.
I'm thinking we should have gone for a beef dish or the trio conchon (pork) – that got good notes from another blogger last month.
MILK CHOCOLATE MACADAMIA NUT TART
with Whipped Macadamia Cream, Milk Chocolate and Caramel Sauce 9
Lastly – we had dessert. We had to – it was date night – we went all out. This had no egg so Larry jumped on the chance to have a real dessert (not just sorbet which is his usual option)! This was delicious. Almost like one of those Ferrero Rocher balls except bigger! It wasn't heavy at all – the outside was a crispy dark chocolate with this wonderful light milk chocolate/caramel filling and filled with macadamia nuts. This was a great way to end the night.
Service is also something to address – it was very good. They are attentive without being too annoying. They take plates away very quickly and are always bringing new silverware. It's something I definitely come to expect when it comes to a Jean Robert establishment and I was not disappointed in the least. I had also mentioned Larry's egg allergy on the Open Table reservation and they knew the minute we walked in the door. Our server was up-to-speed on what had egg and what didn't – which was really nice – not having to have her "go back and check" and we didn't hesitate to believe her either.
We also saw Jean Robert mingling at the bar with some friends for a bit before dinner service – his crazy hair always gets me. Like a mad scientist getting ready to make something awesome!
Why Should You Go? Well I have to be completely honest – the food was a bit underwhelming. After fantastic memorable experiences at Pigall's I had my sights set pretty high. Honestly I preferred my food from York Street in Newport and definitely remember the flavors more. Larry's assessment was right on – he said the food was an 8 and the atmosphere a 9. Our bill was $120 – which is a lot for us – so it's not something we'll be doing too often. Although my handsome brute of a husband said how much he enjoyed it and he wants us to have "fancy date night" once a month! Yeah for me! He even wore a button down shirt and dress shoes! That doesn't happen too often. The atmosphere is casual though – we saw everything from jeans to suits – so no worries about a dress code.
And after our fancy dinner out – we went and saw Jackass 3D. Cuz we're classy like that. I took a quick photo of a particularly Jackass-y scene. (The large man on his knees has an apple you know where – and the pig was nibbling on it.)




Ah the boys from Jackass never disappoint.


Tweet