I've heard many people argue about the best place to get a sub – is it Penn Station? Subway? Quiznos? Jimmy Johns? Jersey Mikes? Others? Well – I've been to most (still haven't been to Jimmy Johns – am I missing out?) – but finally checked another one off my list – Jersey Mikes!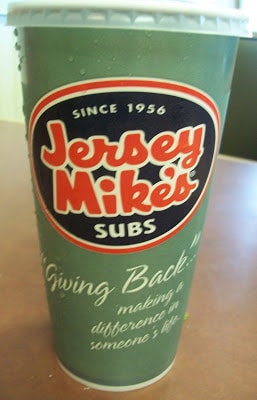 We stopped at the Newport location – it's in the same strip mall sort of thing as my favorite Mexican place – Rio Grande (get the fajita taco salad – review to come)!
I don't know if it's the menu or the way you order or what – but something is a bit different than Quiznos or Subway. I always feel pressured when I'm ordering – like there are too many options and I just can't figure out what I want. I was definitely in the mood for a hot sub – so I zeroed in on that portion of the menu.
I chose #43 – Chipotle Cheese Steak. Grilled onions, peppers, chipotle mayo – Wow! You gotta have one! (their words not mine)
As you can see – it's a lot of food and kinda messy. It didn't seem as "put together" as maybe a sub from Quiznos – a bit sloppier. BUT it was tasty – and the excess that was pouring out from the sandwich tasted great on the chips. 🙂
I can't say it's my favorite – it was a nice change of pace – and they have Diet Mt Dew which is always a find!
The chipotle mayo wasn't quite as spicy as I'd hoped but I could taste it.
So – Jersey Mikes – well – I'd say better than Subway, not as good as Quiznos and DEFINITELY not as good as Penn Station. Now – I gotta find time to get to Jimmy John's!