Larry had never had real crab – kinda shocking to me – but we had to rectify this! So I decide a trip to Joe's Crab Shack was necessary.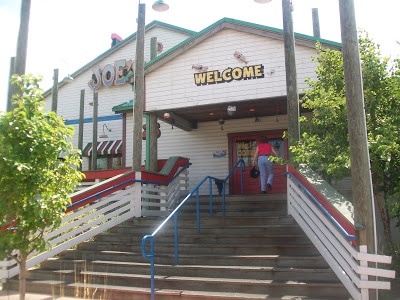 It's right near Newport on the Levee in with Buckhead…
Larry got the Shark Bite to start with (combination of Bacardi Limón Rum, Skyy Vodka, blue curacao, sweet & sour, and a dose of grenadine). The grenadine comes in the shark…and you even get to keep the little guy!
It is sort of funny how pouring it in makes it seem a little bloody.


The view is nice…we didn't sit outside but you can…
Larry got the Mahi sandwich and really liked it. He'd never had that kind of fish before and was pleased. I tried a bite and it was pretty tasty. Thinking it was around $10…
I got one of the "Crab in a Bucket" things so Larry could try crab. It was expensive! Like $23 for the cheapest one…You got crab, corn and potatoes. There are 7 flavors to choose from – I got Garlic Herb. I think I got Dungeness – I know I got the cheapest – because I was already a bit shocked at the prices.
It was okay but I wasn't too pleased mainly because of the price. The crab was fine – but none of the legs were too sizable. The corn was flavorless. The potatoes were again – okay – but not great.
Larry did try some and he liked it. So I guess in the end – Mission Accomplished.
Why Should You Go? Well if you've never had crab – maybe. But really – I'd save up money and get some from the Raw Bar at Jeff Ruby's. THAT's the way to show off crab! I know with the price – we won't be back to Joe's. They do have funny shirts though!