I'm a touch behind on my alphabet quest through Cincinnati – but I know where I'm going for the letter L – so hopefully I can catch up quickly. Nonetheless – the quest for K took me to the rural part of Newport, KY (did you know there was such a thing) off the AA Highway to Knotty Pine on the Bayou!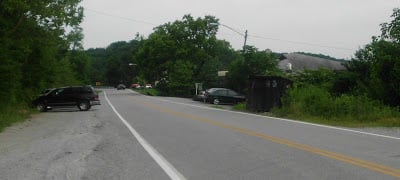 The interesting part of getting there is you're driving on a windy, tree-covered road and then suddenly you see gravel parking lots on either side and a TON of cars! There are 2 businesses – so I just parked in the middle – neither has great signage so I wasn't sure at first – which was my destination.
But I spotted a small sign that said Knotty Pine and had checked ahead online to see the spot – and it wasn't a giant blue sided building – so I knew this was the one.
My friend Heidi and I decided to take advantage of the nice weather and sit outside on the deck. FYI – it's a small place and it gets packed – so reservations are recommended on Friday/Saturday.
After 2 seconds with our waiter – we could tell this was a good seafood place – he knew what he was talking about!
Heidi went with the crab cakes ($12.95) and as you can see they were a bit overdone. She said the flavor was pretty good though.
I decided since I was here – I needed to branch out and try what they're known for. One of those items is crawfish. But the waiter said that crawfish is actually out of season after mid-June so no fresh ones. (Darn – I was so looking forward to eyeballs and feet.) But they did have a crawfish appetizer!
It was fried crawfish over a cheese sauce ($12.95). The cheese sauce basically tasted like queso dip. IT was very tasty – and the crawfish had a similar texture to shrimp – but I actually liked it better! I'd be interested in trying the whole ones – but think battered and fried was probably easier to eat.
The deck on the back of the building is very nice and overlooks the Licking River…
I was in a bit of a tapas mood so I decided on having a couple of small items for the main entree. First up – their other specialty at Knotty Pine – FROG LEGS! The appetizer version is $9.99 and comes with three little frog behinds.
Side note for a family story – my step-sister Janna and I went to a fancy dinner with our parents probably 25 years ago – and they had frog legs. Janna said she definitely could not eat them – we were probably 12 at the time. Her Dad asked why and she said she couldn't stand the thought of all those frogs in the bottom of the lake rolling around in wheelchairs! Ah the memories.
But since it's 25 years later – I'm guessing they now have prosthetic legs for the little guys and decided to go for it! They were lightly breaded and fried – and really tasted like chicken thighs but a little lighter. They were served with melted butter – which was okay – but a little rich for the legs. I'd have rather had a light mustard or aioli – something with a little zip to it.
Heidi and both decided to go with a cup of goodies as the other part of our entree. She went gumbo (top – $4.95) and I went with red beans & rice (bottom – $3.95).
The red beans & rice was good – lots of veggies! But it seemed like it hadn't been cooked very long and the flavors weren't very developed. It was good but not amazing.
Heidi let me try a bite of the gumbo and it was delicious! Deep and rich flavors – I was definitely jealous!
Here's the view over the deck of the river…
There are even steps off to the side that lead to this patio furniture for you to relax for a bit and enjoy the view…
The sky was beautiful as I made my way back to my car so I had to grab a quick snap of that too.
Why Should You Go?
If you're looking for some fresh New Orleans fare in a peaceful setting – I highly recommend it. The food was pretty darned good and our server was extremely knowledgable. I also want to go back just for the view and the deck. The entrees are a bit pricey and my bill for a glass of wine and the three appetizers was $35 – so it's not a bargain. But – I had a great time and a full belly!