A couple of weeks ago, live racing started back up at Turfway Park. The BF finally had a Friday night off and we wanted to do something different. Neither of us had been before – so there we went.
Friday nights at Turfway provides you 2 dining options: $1 hot dogs & $1 beers or a $15.95 Prime Rib A-Y-C-E buffet. We were feeling fancy for date night and went for the buffet.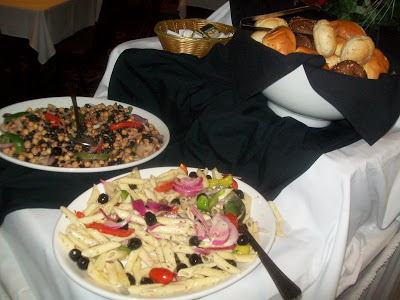 First the pasta salads and rolls. The rolls were cold…wish they'd been heated up. The salads were fine. Bland is best at a buffet that has to please everyone.
What the hell is this??? I wish I could make you guess! Think of something…come on…and…did you get it? Vegetarian Lasagna! Yeah – me either! Actually – I had seconds of this – it was really tasty. Cheesy pasta with vegetables though – really how can it not be good?
Salmon and grouper. We each tried a piece. I had the grouper and liked it – again – bland for the most part but cooked well. BF liked the salmon as well.
After spending $30+ for the buffet – kinda wish we'd gone to town for $5 and just drank and had dogs. But I have to say – the buffet did give us time to sit and talk and actually enjoy each other. Awwww.
Then we can't do a night at Turfway without talking about the racing! Here we all were – watching them bring out the thing the horses stand in (yes – that's the technical term). We have dog tracks back home – but I'd never been to a horse track – so it was a fun experience.
There are a lot of seats inside as well – but all the action is outside. Inside seats are for wussies (or people actually betting seriously – which was NOT us).